Product News: Controls & Controllers
Synchronous Buck Regulator features PMBus(TM) interface.
Press Release Summary: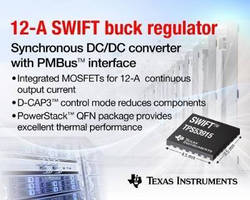 March 21, 2014 - Housed in 3.5 x 4.5 x 1 mm PowerStack™ QFN package, SWIFT TPS53915 DC/DC Buck Converter integrates NexFET™ MOSFETs that support 12 A continuous output and drive ASICs in space-constrained and power-dense applications, including wired and wireless communications, enterprise/cloud computing, and storage systems. D-CAP3 adaptive on-time control mode eliminates output capacitors and requires no loop compensation, while auto-skipping Eco-mode™ provides high light-load efficiency.
Texas Instruments Incorporated - Dallas, TX
Original Press Release
TI Introduces Industry's Smallest 12-A Synchronous Buck Regulator with PMBus(TM) Interface
Press release date: March 17, 2014
SWIFT(TM) DC/DC converter integrates MOSFETS and features new adaptive on-time control mode
FORT WORTH, Texas -- APEC -- Texas Instruments (TI) (NASDAQ: TXN) today introduced the industry's smallest 12-A, synchronous DC/DC buck converter with PMBus interface. The SWIFT TPS53915 converter features a tiny PowerStack((TM)) QFN package and integrated NexFET((TM)) MOSFETS to drive ASICs in space-constrained and power-dense applications in a variety of markets, including wired and wireless communications, enterprise/cloud computing and storage systems. Used in conjunction with TI's award-winning WEBENCH() online design tools, the TPS53915 simplifies power conversion and speeds the design process. For more information, samples and an evaluation module, visit
www.ti.com/TPS53915-pr
.
The TPS53915 will be demonstrated in TI's booth #805 at the Applied Power Electronics Conference and Expo (APEC) in Fort Worth, Texas, March 17-19.
The highly integrated converter features 0.5 percent reference voltage accuracy to meet voltage requirements of deep sub-micron processors. D-CAP3((TM)) adaptive on-time control mode is easy to use, provides very fast load transient response and reduces external component count. Programmability and fault reporting via PMBus simplifies power supply design and further reduces component count. Watch a video demonstration of the TPS53915.
For analog applications without PMBus control, TI offers the SWIFT 8-A TPS53513 and 12-A TPS53515 pin-to-pin compatible buck converters. For more information on all of TI's SWIFT products, click here.
TPS53915 key features and benefits
-- Integrated high- and low-side MOSFETs support 12-A continuous output current.
-- On-chip PMBus interface simplifies power supply design.
-- D-CAP3 adaptive on-time control mode eliminates output capacitors and requires no loop compensation, which minimizes the external component count.
-- Auto-skipping Eco-mode((TM)) provides high light-load efficiency.
-- 28-pin, 3.5-mm by 4.5-mm by 1-mm PowerStack QFN package features TI's NexFET power MOSFETs stacked on a grounded lead frame and connected using copper clips. The unique combination of stacking and bondingallows for a smaller, more integrated quad flat no-lead (QFN) package compared to other solutions that place MOSFETs side by side. Watch a video on PowerStack package technology.
-- Other features include no external compensation, internal soft start, input under-voltage protection, internal bootstrap capacitor and thermal shutdown.
About SWIFT products from Texas Instruments
TI's portfolio of SWIFT products includes more than 130 DC/DC converters with integrated MOSFETs supporting input voltage ranges from 3 V to 28 V. The products are designed to power DSPs, FPGAs and other processors, and are fully functional in TI's WEBENCHPower Designer, Power Architect and FPGA Power Architect design and prototyping tools. Click here for more information on TI's SWIFT product portfolio.
About WEBENCH tools from Texas Instruments
The WEBENCH Designer and Architect component libraries include more than 40,000 components from 120 manufacturers. Price and availability is updated hourly by TI's distribution partners for design optimization and production planning. Offered in eight languages, the user can compare complete system designs and make supply chain decisions in minutes. Click here to start a cost-free design in TI's WEBENCH design environment.
Availability and pricing
The TPS53915 DC/DC converter is available in volume now from TI and its authorized distributors and is priced at US$3.51 in 1,000-unit quantities. Order the single synchronous step-down converter evaluation module.
Find out more about TI's power portfolio:
-- Follow #TIdoesAPEC on Twitter to keep up with what TI is doing at APEC, including videos of demonstrations, Power House blogs and not-to-miss technical sessions.
-- Get more information on all of TI's SWIFT DC/DC converters.
-- Design a complete power management system online with TI's WEBENCH Power Designer.
-- Search for solutions, get help and share knowledge in the Power Management forum in the TI E2E(TM) Community.
-- Download power reference designs from TI's PowerLab(TM) Reference Design Library.
About Texas Instruments
Texas Instruments Incorporated (TI) is a global semiconductor design and manufacturing company that develops analog ICs and embedded processors. By employing the world's brightest minds, TI creates innovations that shape the future of technology. TI is helping more than 100,000 customers transform the future, today. Learn more at
www.ti.com
.
Trademarks
WEBENCH is a registered trademark and SWIFT, Eco-Mode, PowerStack, D-CAP3, NexFET, TI E2E and PowerLab are trademarks of Texas Instruments. All other trademarks belong to their respective owners.
CONTACT:
Gayle Bullock
Texas Instruments
669-721-3133
gayle.bullock@ti.com
㰾