Surface Mount LEDs offer ESD protection up to 8 kV.
Press Release Summary: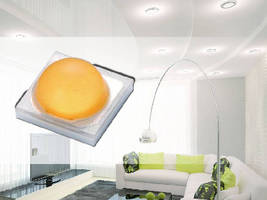 April 26, 2012 - Housed in ceramic package measuring 3.5 x 3.5 x 0.58 mm, Shwo D Series features standard operating current of 350 mA and can be driven at 1 W. Minimum luminous flux of 1 W units can be up to 110 lm at 6,500K or 80 lm at 3,000K when driven at 350 mA of current. LEDs are suited for variety of applications, such as general illumination, flash, spot, signal, industrial, and commercial lighting.
Original Press Release
Everlight Introduces the Brand New Shwo D LED Lighting Series
Press release date: April 15, 2012
Light+Building 2012, Frankfurt - Expanding Everlight's Lighting Series component portfolio, EVERLIGHT Electronics [TSE:2393], one of the world's leading companies in LED Lighting introduces a brand new high power, high brightness LED package, the "Shwo D" Series - our new powerful, bright and economic (superb $/lm) LED series in a compact ceramic package. The Shwo D series is a surface-mount high-power device featuring high brightness combined with a compact size (3.5x3.5x0.58mm) that is suitable for all kinds of lighting applications such as general illumination, flash, spot, signal, industrial and commercial lighting. With standard operating current of 350mA, the Shwo D family can be driven at 1 watt. The minimum luminous flux (lm) of the 1W Shwo D can be up to 110 lm at 6500K(CCT) or 80 lm at 3000K(CCT) when driven at 350mA of current. The thermal pad of this device is electrically isolated providing convenience in thermal and electrical design. The Shwo D series also has the advantage of low thermal resistance. It is one of the most promising devices in Everlight's high power Lighting Series product offering and is ready to face the challenges of today's Solid-State Lighting requirements. EVERLIGHT is also promoting closer working relationships between our R&D, Sales and Marketing teams to better meet and exceed our customer's expectations in both product offering and technology perspectives. The Shwo D LED series and its many technical features are a result of fostering a closer relationship between these teams. Features
Small package with high efficiency
ESD protection up to 8KV
Soldering method: SMT
Binning Parameters: Brightness, Forward Voltage, Wavelength and Chromaticity
Moisture Sensitivity Level: 1
RoHS compliant
Matches ANSI binning
Lumens Maintenance testing conforms to IESNA LM80 test method Applications
General Lighting
Industrial and Commercial Lighting
Directional Lamps - MR16, GU10, PAR
Spot Lighting
Flash
Street Lighting Sample Available: Yes.
Mass Production: Q1, 2012 More information or data sheet for this product upon request: Please contact your local Everlight sales office. Local Sales information: www.everlight.com About Everlight Electronics Co., Ltd.
Everlight Electronics Co., Ltd. was founded in 1983 in Taipei, Taiwan. Playing a critical role in the formation of the global LED industry, the company is rapidly ascending to become a leading supplier due to its dedication to certification, R&D, production, quality, marketing and global customer service. Everlight provides a diverse product portfolio consisting of High Power LEDs, Lamps, SMD LEDs, LED Lighting Modules, Digital Displays, Optocouplers and Infrared Components for various applications. Today, EVERLIGHT is a global company with over 6,400 employees based in China, Hong Kong, Japan, Korea, Singapore, Malaysia, India, Germany, Sweden, U.S., and Canada. Please visit us at www.everlight.com