Product News: Material Handling & Storage
Strong, Safe, Tailored Magnets expand practicality, possibility.
Press Release Summary: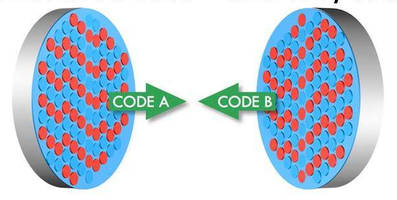 September 3, 2014 - Comprising pre-patterned, customizable magnets, Polymagnets® are optimized for performance and unique functionality in consumer and industrial products. Functions include magnetic springs, latches, or connectors that can self-align to very tight tolerance. While Mag Spring products offer pair of magnets patterned to attract at distance and then repel up close to create magnetic spring/cushion, Twist Latch line has pair of magnets patterned to either repel or attract as faces are rotated.
Industrial Magnetics, Inc. - Boyne City, MI
Original Press Release
New Polymagnets® for Stronger, Safer, Next-Gen Magnet Performance
Press release date: August 1, 2014
Boyne City, MI
Industrial Magnetics Inc.(IMI) recently announced the formation of a new partnership with Correlated Magnetics Research(CMR) that names IMI as an applications consultancy and manufacturing supplier of Polymagnets® for industrial and consumer goods manufacturing applications.
The revolutionary new Polymagnet line is comprised of pre-patterned magnets that can be tailored to deliver higher-performance and novel magnetic functions which designers can integrate into consumer and industrial products. Each Polymagnet is imprinted with a smaller pattern of magnetic fields which are tailored to deliver stronger, safer and entirely new magnet functions not possible with conventional magnets.
"This technology greatly expands what is practical, and even what is possible, in magnetics," states IMI President, Dennis O'Leary. "Through this partnership, IMI is able to expand its offering in advanced magnetics systems for entirely new magnetic applications."
CMR's technology includes an expanding library of pre-engineered Polymagnet functions such as magnetic springs, latches or connectors that can self-align to a very tight tolerance. IMI's CMR Brand Manager, Paul Hardy, explains: "For example, with our Mag Spring products, a pair of magnets is patterned to attract at a distance and then repel up close to create a magnetic spring or cushion. Or, we have the Twist Latch line, where a pair of magnets is patterned to either repel or attract as the faces are rotated."
Polymagnets also offer a significant advantage when used for standard attachment applications. Since their strength is concentrated near the face of the magnet, it not only increases the attachment force to more than double that of a conventional magnet, but it also reduces the risk to magnetically sensitive electronics or the accidental attraction to nearby metal or other magnets.
IMI's new Polymagnet line will be on display at the upcoming Design Engineering Expo(DEX), October 28, 2014 at the Mississauga Convention Center in Ontario. Polymagnet Demonstration kits are also available to purchase on the company's website, which offer design engineers a range of products for application testing.
For more information, pricing and availability of Polymagnets, contact Industrial Magnetics, Inc. at 231.582.3100 or email: 
phardy@magnetics.com
About Correlated Magnetics Research, LLC
Correlated Magnetics Research is the inventor of correlated magnetic systems technology for consumer and industrial applications. Polymagnets® is a registered Trademark of Correlated Magnetics.
About Industrial Magnetics Incorporated
IMI designs and manufactures magnetic products for a wide range of industries, including Automotive, Material Handling, Food, Petrochemical, Mining, Recycling, Appliances, Primary Metals, Plastics, Paper Products and more. With worldwide distribution, including a direct sales force and a dedicated group of channel partners, they provide personalized service and innovative solutions to meet the exact needs of customer applications.
For more information contact:
Paul Hardy
Industrial Magnetics, Inc.
231.582.3100
phardy@magnetics.com