Product News: Controls & Controllers
Stepper Motor Driver IC suits office automation equipment.
Press Release Summary: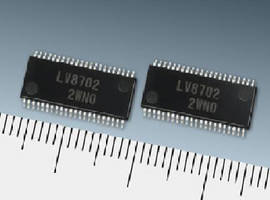 December 28, 2012 - Offered in 5.6 x 15.0 mm SSOP44J package, Model LV8702V operates from 9–32 V while minimizing heat generation, vibration, and noise from motor in applications such as positioning control in printers. Device detects motor condition through driver waveform monitoring; power consumption is reduced by automatically reducing current value according to rotation speed or load of motor. Additional features include output short protection, thermal shutdown function, and step-out detection function.
Original Press Release
ON Semiconductor Introduces High-Efficiency Stepper Motor Driver IC for Office Automation Equipment
Press release date: December 19, 2012
LV8702V is optimized to reduce motor noise, vibration and heat generation, and deliver no-load power consumption savings of up to 80 percent *1

PHOENIX, Ariz. –  ON Semiconductor (Nasdaq: ONNN), driving innovation in energy efficiency, has introduced the LV8702V, a new stepper motor driver IC that delivers significantly improved efficiency versus existing products on the market. The device has been specifically designed for office automation equipment applications such as copiers, scanners and multi-function printers.

"The poor energy efficiency of stepper motors utilized in a wide range of electronics applications has, for some time been an area of concern to communities the world over and a challenge to power system design engineers," said Tsutomu Shimazaki, general manager of power products for ON Semiconductor's SANYO division. "The LV8702V meets this challenge by providing a unique driving system that enables it to achieve no-load power consumption savings of up to 80 percent*1 and a reduction in peak motor current of approximately 77 percent*1. This solution greatly assists our customers in the development of office automation electronics that meet the global demand for better energy efficiency."

Features and Benefits
In addition to reducing overall power consumption, the LV8702V helps reduce heat generation, vibration and noise from the motor in applications such as positioning control in printers. Due to the increased efficiency, the surface temperature of the driver IC and the motor are decreased by up to 46ºC and 28ºC respectively*2. This can overcome the need for cooling fans with the corresponding space and cost savings and enhanced system reliability. The LV8702V stepper motor driver IC detects motor condition through driver waveform monitoring; power consumption is reduced by automatically reducing the current value according to the rotation speed or load of the motor. The new device has an operating voltage range of 9 volts (V) to 32 V. Protection features include output short protection, a thermal shutdown function and a step-out detection function.

The LV8702V joins ON Semiconductor's AMIS30542/43/22/12 family of highly intelligent stepper motor control solutions with sensor-less motor feedback. This portfolio of product offerings provide designers with cost effective, leading edge performance for a broad range of applications and drive current.  Advanced functions such as stall detection, step-loss, and current drive optimization are now simple to integrate into applications where cost may have previously precluded 'high-end' motor control.

Pricing and Availability
The LV8702V is offered in a SSOP44J package measuring 5.6 mm by 15.0 mm. The device is budgetary priced at $6.00 per unit for orders in quantities of 2,000 units.

*1 Driving voltage: 24V, Current setting: Iout=1A,
Excitation mode: Half step, Speed: 1500pps,
Motor: HB motor bipolar type, Load: no-load

*2 Driving voltage: 24V, Current setting: Iout=2A,
Excitation mode: Half step, Speed: 2000pps,
Motor: HB motor bipolar type, Load: no-load, Power on time: 20 min

About ON Semiconductor
ON Semiconductor (Nasdaq: ONNN) is driving innovation in energy efficient electronics, empowering design engineers to reduce global energy use. The company offers a comprehensive portfolio of power and signal management, logic, discrete and custom solutions to help customers solve their unique design challenges in automotive, communications, computing, consumer, industrial, LED lighting, medical, military/aerospace and power supply applications. ON Semiconductor operates a responsive, reliable, world-class supply chain and quality program, and a network of manufacturing facilities, sales offices and design centers in key markets throughout North America, Europe, and the Asia Pacific regions. For more information, visit http://www.onsemi.com.

ON Semiconductor and the ON Semiconductor logo are registered trademarks of Semiconductor Components Industries, LLC. All other brand and product names appearing in this document are registered trademarks or trademarks of their respective holders. Although the company references its Web site in this news release, such information on the Web site is not to be incorporated herein.

Contacts

Katsuya Ito                                                                           Ken Rizvi
Media Relations  - Japan                                                   Vice President and Treasurer
ON Semiconductor's SANYO division                             ON Semiconductor
+81-(276) 61-8506                                                              (602) 244-3437   
Katsuya.Ito@onsemi.com                                                 ken.rizvi@onsemi.com

Anne Spitza
Corporate Communications – Global
ON Semiconductor
+1(602) 244-6398
Anne.spitza@onsemi.com