Product News: Electrical Equipment & Systems
Solar Module optimizes efficiency to 16.9%.
Press Release Summary: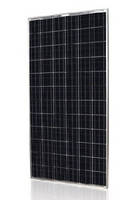 January 21, 2013 - Manufactured exclusively with MEMC-produced polysilicon and CCz p-type mono wafers with tight resistance control, 330 Watt Silvantis™ M330 is Potential Induced Degradation-free for optimal reliability. Unit features high load capacity of 5,400 Pa, textured ARC glass for maximum energy production, and positive power tolerance of -0 to +5 W. Module is 1,000 V UL Certified by CSA and includes IEC certification by TUV SUD.
Original Press Release
MEMC Introduces Silvantis M330 Solar Module
Press release date: January 16, 2013
Full-Square Monocrystalline Cells, Potential Induced Degradation Free Design, Delivers Value and Reliability
ST. LOUIS, -- MEMC Electronic Materials (NYSE: WFR), today introduced the MEMC Silvantis(TM) M330 Solar Module. The Silvantis M330 is the first product to be manufactured exclusively with MEMC-produced polysilicon and CCz p-type mono wafers leveraging the company's strategic vertical integration.
MEMC's new Silvantis M330 Module extends its existing module family and features to full square mono 330 watt (W) solar cells for higher output power and is Potential Induced Degradation (PID)-free, allowing for improved system reliability.
"Our focus at MEMC is utilizing our experience to provide the best customer value and reduce levelized cost of energy (LCOE) for our customers," said Vijay Chinnasami, senior vice president of solar materials at MEMC.  "Launching the Silvantis M330 is an important milestone for us.  We've leveraged our electronic grade polysilicon, wafer manufacturing expertise and strategic relationships to produce a module that increases efficiency and serves the commercial and utility markets at an economical price point."
The Silvantis M330 is a high-efficiency solar solution that improves efficiency to 16.9% (330W), utilizing new technology and manufacturing techniques to maximize efficiency, minimize cost and extend product lifetime.  Renewable Energy Testing Center (RETC) in Fremont California tested the modules according to IEC6125 and IEC61730 standards and certified TUV SUD certifications for long-term operation in a variety of climates and electrical safety.  RETC also tested and certified the modules by CSA for UL 1703 (1000 V).
The Silvantis M330 provides the following features and benefits:
--  Fully integrated MEMC silicon, wafers and cells
--  16.9% module  efficiency delivers over 5% savings per watt BOS improvement over multi-crystalline
--  Full square mono for higher power output
--  PID-free modules for better system reliability
--  CCZ p-type mono-crystalline wafer with tight resistance control to optimize cell performance
--  High load capacity of 5400 Pa
--  High-efficiency, textured ARC glass for superior energy production
--  Industry leading 1000V UL Certified by CSA
--  IEC certification by TUV SUD
--  25-year linear warranty backed by MEMC
--  Positive power tolerance of -0 to +5W for improved system performance
--  Lighter weight for easier installation MEMC is also an ISO 9001 company and its solar module manufacturing sites in Asia and North America are ISO 14001 certified.
About MEMC
MEMC is a world leader in semiconductor and solar technology.  MEMC has been a pioneer in the design and development of silicon wafer technologies for over 50 years. With R&D and manufacturing facilities in the U.S. Europe, and Asia, MEMC enables the next generation of high performance semiconductor devices and solar cells.  Through its SunEdison subsidiary, MEMC is also a developer of solar power projects and a worldwide leader in solar energy services. MEMC's common stock is listed on the New York Stock Exchange under the symbol "WFR".  For more information about MEMC, please visit
www.memc.com
.
CONTACT: Dawn Brister, +1-407-414-0526,
dbrister@memc.com
Web Site:
www.memc.com