Product News: Electronic Components & Devices
SMT Precision Foil Resistors meet low TCR, tight tolerances.
Press Release Summary: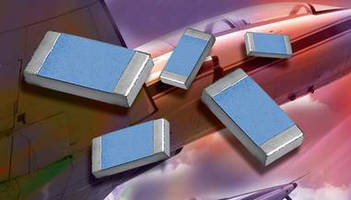 October 18, 2012 - Available in 5 sizes from 0805–2512, models VSM and VSMP (Z-Foil) resistors are constructed to meet strict low temperature coefficients (TCR) and tight absolute tolerances. These Bulk Metal® Foil resistors offer TCR of ±0.2 ppm/°C over -55 to +125°C range and resistance tolerance to 0.01%. Additional values include load life stability to ±0.005% at 70°C, thermal stabilization time of less than 1 sec (typ within 10 ppm of steady state value), and ESD of at least 25 kV.
Wilbrecht LEDCO, Inc. a Microprecision Electronics company - Saint Paul, MN
Original Press Release
Wilbrecht LEDCO Adds Surface Mount Resistors to Product Line
Press release date: October 10, 2012
Wilbrecht LEDCO, Inc. Surface Mount Resistors

St. Paul, MN–Wilbrecht LEDCO, Inc., a subsidiary of Microprecision Electronics SA, announces that it is adding surface-mount precision foil resistors to its product line.

Wilbrecht LEDCO has been a manufacturer of precision Bulk Metal® Foil resistors based on Vishay Precision Group (VPG) technology for over 15 years. Wilbrecht LEDCO is responding to the growing demand for surface-mount products by making models VSM and VSMP (Z-Foil) available to its customers. These resistors are available in five different sizes (between 0805 and 2512) and are constructed to consistently meet strict low temperature coefficients (TCR) and tight absolute tolerances. Bulk Metal® Foil resistors supplied by Wilbrecht LEDCO offer a TCR of ±0.2 ppm/°C over the range -55°C to +125°C and resistance tolerance to 0.01%. The resistors offer load life stability to ±0.005% at 70°C, thermal stabilization time <1 s (nominal value achieved within 10 ppm of steady state value) and electrostatic discharge (ESD) at least to 25 kV.

Bulk Metal Foil resistors are not restricted to standard values, but can be trimmed to any "as required" value. For example, a resistor can be supplied as readily with a value of 10K073 as with a standard value of 10K. The resistors' tight tolerances and high stability also have the advantage of enabling longer intervals between calibrations of the circuit; they, therefore, serve to lower operating costs. The enhanced reliability of the in-circuit reference resistors provide more dependable equipment for several applications, such as military, avionics, deep-space probes, automatic test equipment, sense and measurement equipment, medical equipment and high-end audio equipment.

Centrally located in Huron, SD, the Wilbrecht LEDCO QPL-certified manufacturing plant is also a Vishay Precision Group authorized precision center and will trim, test and ship these surface-mount Bulk Metal® Foil resistors in smaller quantities and selected values within five days to meet the ever-increasing short lead times required for new product design and development.

For more information, contact Wilbrecht LEDCO, Inc., St. Paul, MN at 651-659-0919 or toll-free at 888-323-8751.    Email: info@wilbrechtledco.com. Web: http://www.wilbrechtledco.com.

Wilbrecht LEDCO, Inc. is a division of Microprecision Electronics SA