Product News: Sensors Monitors & Transducers
Shock and Vibration Detector optimizes drilling productivity.
Press Release Summary: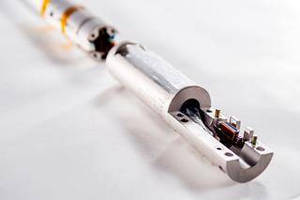 March 13, 2014 - Adding shock and vibration measurement capabilities to Tensor Directional Module, Directive™ System optimizes drilling penetration rates by enabling adjustments and corrections to be made based on real-time data. Real-time management of downhole vibrations also minimizes equipment damage, helping to avoid potential well-drilling delays. Operating at up to 175°C, system combines processor, 4 channels of detectors, A/D converter, 2 MEMS accelerometers, and 32 MB of memory.
Original Press Release
GE Improves Drilling Performance through Real-Time Shock and Vibration Measurement
Press release date: March 4, 2014
Directive™ MWD Directional System Replaces GE's Tensor MWD for Precision Directional Drilling Surveys
Enables Users to Detect Well Vibrations in Real Time and to Take Corrective Measures Quickly
Helps Increase Drilling Success Rates and Placement Accuracy While Reducing Downtime
HOUSTON – Directional and horizontal well-drilling techniques have led to the production of vast quantities of hydrocarbons from previously uneconomic, hard-to-reach reservoirs. To help customers reduce operational costs and to increase overall productivity, GE (NYSE: GE) has unveiled the Directive™ system, an enhanced version of a key tool in its Measurement While Drilling (MWD) family of downhole drilling equipment.
The Directive system adds real-time shock and vibration measurement capabilities to GE Oil & Gas' Tensor Directional Module, already an industry leader in measurement accuracy and reliability. It is designed to help customers optimize drilling penetration rates by enabling adjustments and corrections to be made quickly based on real-time data. Moreover, real-time management of downhole vibrations typically reduces equipment damage, thereby helping to avoid potential well-drilling delays and reduce overall costs.
"GE has been providing precision directional drilling instruments for many years, including high-quality, reliable downhole systems for directional surveying and navigation. The design and development of the Directive™ sensor package was driven by ever-increasing customer requirements for improved reliability and real-time shock and vibration measurements at high temperature," said James Junker, global business leader—GE Downhole Technology for GE Oil & Gas. "Such measurements aren't new to the industry, but the Directive system design features inherent calibration stability for a far longer duration than other commercially available products, leading to a lower cost of ownership for this tool versus competitive products."
Optimal placement of directional and horizontal wells within a reservoir requires knowing the precise location of the drill bit and the orientation of its tool face at every moment during the drilling process. The drill bit's location is measured by downhole gravity and magnetic sensors, which are used to perform directional surveys that take into account inclination, azimuth and drill bit tool face orientation. The survey information is then transmitted uphole either through mud pulse telemetry or via electromagnetic waves. GE's Directive sensor package provides critical real-time measurements designed to enable the drill bit to be oriented in a preferred direction quickly.
The Directive system has a simplified, ruggedized and compact design with fewer components and an improved layout for a long service life at an operating temperature of up to 175°C. Calibration stability of the sensor package under harsh drilling conditions is now engineered for far longer intervals—with the goal of drilling with greater confidence, fewer trips to the shop and lower associated repair costs. The Directive system has greater processing power than the Tensor Directional Module and features a simplified board design, which packs the processor, four channels of detectors, an A/D converter, two MEMS accelerometers and 32 MB of memory (for enhanced diagnostics and lifetime events storage) onto a reduced number of boards.
To learn more about GE's Directive system, visit
http://www.geoilandgas.com/directive_directional_module
About GE
GE (NYSE: GE) works on things that matter. The best people and the best technologies taking on the toughest challenges. Finding solutions in energy, health and home, transportation and finance. Building, powering, moving and curing the world. Not just imagining. Doing. GE works. For more information, visit the company's website at
www.ge.com
.
About GE Oil & Gas
GE Oil & Gas works on the things that matter in the oil and gas industry. In collaboration with our customers, we push the boundaries of technology to bring energy to the world. From extraction to transportation to end use, we address today's toughest
Media contacts:
Fabio Pianini
GE Oil & Gas
Phone: +39 342 391 3298
Email:
fabio.pianini@ge.com
Yokima Davison
GE Oil & Gas
Phone: +1 713 458 3783
Email:
yokima.cureton@ge.com