SFP/MSA Connector comes in single and quad versions.
Press Release Summary: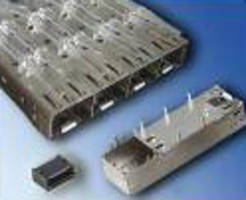 December 1, 2009 - Designed to mount SFP transceivers, right-angle SMT SFP/SMA Connector consists of bottom plate with 20-pin, surface mount contact unit; high temperature-resistant plastic insulation cover in accordance with UL94 V-0; and cage, which is mounted on PCB using 8 press-fit connections. Maximum contact resistance is 20 mW and minimum insulator resistance is 500 MW. For LED signal indication on front panel, both versions can be fitted with light pipes.
Original Press Release
Robust SFP/MSA Connectors in Single and Quad Versions
Press release date: November 16, 2009
Robust SFP/MSA Connectors Pfarrkirchen, Germany, November 16, 2009 - For high-speed data transmission in the Gbps range, pluggable transceivers have, due to their flexibility, almost completely replaced hardwired copper or fiber-glass interfaces in most networking applications. For mounting of these miniaturized Small Form Factor Pluggable (SFP) modules with reliable contacts, SUYIN now offers extremely robust, simple and fast-mounting SFP connectors in single and quad versions. The SUYIN plug-in positions fully comply with the Multi-Source Agreement (MSA). In keeping with the MSA, all transceiver manufacturers have obligated themselves to observe binding, detailed agreements for physical, electrical and optical specifications, thus ensuring interoperability and universal compatibility. These specifications are defined in different standards: SFF-8432 (cage), SFF-8083 (mating interface and performance) and SFF-8431 (electrical interface).
SUYIN's right-angle SMT SFP/SMA connector consists of a bottom plate with the 20-pin, surface-mount contact unit as well as a high-temperature-resistant plastic insulation cover in accordance with UL94 V-0, and a robust cage. The bottom plate and cage are fastened together with high-strength positive latching using a patented "crocodile-style" snap-in mechanical connection. The cage itself is mounted sturdily on the printed circuit board using eight partially reinforced (and patented) press-fit connections. Due to the patented cage design, no shape distortion takes place, even after one thousand mating cycles. For LED signal indication on the front panel, both the single and quad versions can be fitted with "light pipes" in just three easy steps. The electrical contacts are made of a copper alloy and are specified for 250 mating cycles. Maximum insertion and maximum extraction forces are specified at 40 N and 11.5 N respectively, the maximum contact resistance at 20 mW, and the minimum insulator resistance at 500 MW. The SFP/MSA-compliant connector design makes it possible to hot-swap all kinds of transmission media. For the single version, the mechanical dimensions are 48.73 mm x 14.5 mm x 9.45 mm (L x W x H). SFP/SMA single and quad connectors are available immediately in sample quantities.
Key specifications at a glance:
Connector type
SFP/MSA-Cage and Connector
Number of positions
20 pins
Dimensions
Single Version: 48.73 x 14.5 x 9.45 (L x W x H in mm)
Quad Version: 49.00 x 56.75 x 9.8 (L x W x H in mm) About SUYIN
Founded in 1981, SUYIN Corporation is headquartered in Taipeh/Taiwan and employs over 11,000 people around the world in six production plants in Taiwan and China (Dongguang and Changshu) and in nine branch offices (China, Japan, Korea, Singapore, USA, Europe, Israel). With a turnover of 205 million US dollars (2007), the company is among the top ten in its industry in the Asian/Pacific region. SUYIN's product range begins with electromechanical connectors of all types (including both standard and custom versions) for use in consumer electronics, automotive electronics and industrial electronics. However, it extends all the way to optical and optoelectronic products such as CMOS camera modules for applications in products such as cell phones, cars, and computers/notebooks. The company's strengths include a strong commitment to its customers that the company will maintain a high degree of flexibility with constant investment in state-of-the-art technology in order to meet customer expectations with regard to design, functionality, quality, service and cost efficiency. With the aid of rapid prototyping, high-precision machine tools and automated robotic assembly lines, SUYIN is able to help ensure the global success of its customers in Europe, the USA and throughout the Asian Pacific region. Additional information is available at
www.suyin-europe.com
.
Company Contact
Product Inquiries SUYIN GmbH (for release)
Passauer Strasse 99
84347 Pfarrkirchen
Christian Griesbacher
Telefon: +49(0)8561-23888-800
Email: christian.griesbacher@suyin-europe.com
Internet:
www.suyin-europe.com
Press Contact SUYIN GmbH
Passauer Strasse 99
84347 Pfarrkirchen
Sarah Kovacs
Telefon: +49(0)8561-23888-800
Email: sarah.kovacs@suyin-europe.com
Internet:
www.suyin-europe.com