Servo Drive is available with integrated resolver.
Press Release Summary: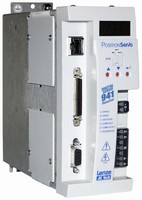 March 5, 2008 - Model 941 PositionServo Drive has integrated resolver with scalable emulated encoder output that scales resolution back into end-user's controller, providing 15 options of positioning resolution. Resolver can measure position of motor shaft within one revolution, and product offers capability of controlling basic torque and velocity applications through fully programmable coordinated motion.
Original Press Release
Resolver-Based Model Added to PositionServo Drive Family
Press release date: February 22, 2008
UXBRIDGE, MA - FEBRUARY 22, 2008 - Lenze-AC Tech announces the release of the resolver-based Model 941 PositionServo Drive. According to company officials, the resolver measures the position of the motor shaft within a revolution, while an incremental encoder can only know the relative position of the shaft.
"For applications requiring tight positioning control, the Model 941 PositionServo has an integrated resolver with a scalable emulated encoder output." says Brian Taylor, Servo Product Manager at Lenze-AC Tech. Taylor explains, "The output scales the resolution back into the customer's controller, providing fifteen options of positioning resolution." Taylor adds that customers can also choose their own level of control with the PositionServo drive's capability of controlling basic torque and velocity applications up through fully programmable coordinated motion.
Lenze-AC Tech Marketing manager, Deb Kling describes resolver technology as originally developed for military applications due to its ruggedness, and comments that it has now become the preferred choice in hot, humid, dusty, oily or vibratory environments. Kling adds that the Model 941 is already receiving rave reviews in Europe, where resolver feedback is extremely popular.
Lenze-AC Tech develops, manufactures, markets and supports a complete range of motion control solutions, including servo drives and motors, clutches and brakes, gears and gear motors and variable frequency AC motor drives. Lenze-AC Tech's portfolio of AC Drive products extends from some of the world's smallest sub-micro drives up through large, 500 HP. With North American headquarters in Uxbridge, Massachusetts and a global network of distributors and representatives, Lenze-AC Tech is perfectly positioned to meet the needs of customers throughout the world.
Lenze-AC Tech can be found online at
www.lenze-actech.com
.