Servo Controllers use ball-screw actuators with dc motors.
Press Release Summary: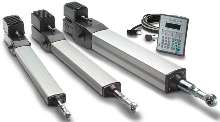 November 19, 2003 - ServoMove Systems utilize electro-mechanical linear ball-screw actuators with brushless dc motors to perform precise, repetitive-motion operations in applications involving robotics and automated tasks. Modular in design, they consist of Operator Interface (CAOP), PLC, and local I/O Module. CAOP controls up to 4 Type CASI 40 servo actuators and accommodates unlimited number of sub-masters. Display panel lets users select drive modes and adjust parameters.
SKF Motion Technologies - Lansdale, PA
Original Press Release
SKF® Servomove Systems for Industrial Servo Applications Utilize Unique Ball-Screw Actuator With DC Motor
Press release date: November 18, 2003
New SKF® ServoMove Systems utilize a unique electro-mechanical linear ball-screw actuator with brushless DC motor to perform precise repetitive-motion operations on the assembly line and in countless related applications involving robotics and automated tasks. Modular in design, SKF ServoMove Systems can be introduced easily into virtually any industrial servo motion system at designated single or multiple locations in a plant or on the shop floor. SKF ServoMove Systems consist of Operator Interface (CAOP), Programmable Logic Controller (PLC), and local I/O Module. The CAOP (compatible with most PLCs) can control up to four SKF Type CASI 40 servo actuators and can accommodate an unlimited number of sub-masters, providing a capability to expand. The SKF ServoMove System communicates directly with a CANopen bus between CAOP and actuators. The newly developed compact SKF Type CASI 40 actuators with integrated electronic drives and Hall sensors for electronic commutation feature robust design and construction for long service life. Stroke up to 700mm, force up to 5200N, and speed up to 650mm/sec can be achieved. The actuators can be configured and customized for any application or technical requirement. The system's display panel enables users to select drive modes (auto, semi-automatic, or manual) and adjust parameters (position, speed, load limits, or resting time) easily and with confidence. For more information, contact Roy W. Schreffler, SKF Actuation Systems, 1530 Valley Center Parkway, Bethlehem, PA 18017-2266. Phone: (800) 541-3624 (toll-free) or (610) 861-3708; Fax: (610) 861-4811. Web site:
www.linearmotion.skf.com