Product News: Electrical Equipment & Systems
Ruggedized Area LED Front Light has IP67-rated housing.
Press Release Summary: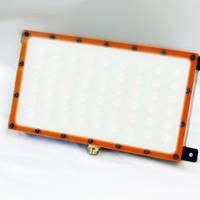 November 20, 2012 - Metabright™ Ruggedized Area Front Light, MT-FL300X150, provides 11 x 6 in. of 7,200 lm, 6,000°K white lighting. It can be used alone or in pairs, or positioned for on-axis or off-axis illumination depending on lighting needs. Featuring black anodized aluminum housing, unit is shock- and vibration-resistant and has passive thermal conduction cooling. Weatherproof, low energy consumption light is suited for night inspection, low daylight, and outdoor or spray applications.
Metaphase-Technologies, Inc. - Bensalem, PA
Original Press Release
Low Cost, High Power, Broad Area IP67 LED Light
Press release date: November 15, 2012
Ground breaking, High Intensity LED Ruggedized Area Front Lights:
Metaphase Technologies is proud to feature our Metabright™ Ruggedized Area Front Light, MT-FL300X150. This ruggedized area front light provides 11" x 6" (300 x 150mm) direct high intensity lighting. Used alone or in pairs, these lights have the advantage of being positioned for homogeneous on-axis or off-axis illumination to provide the best lighting scenario.
Features:
• Heavy Duty Black Anodized Aluminum housing with Stainless Steel option
• High Intensity: Over 150,000 Lux / 7,200 Lumens
• Broad, Bright, Full Spectrum of Light
• Shock and Vibration resistant
• Low Power Energy Consumption
• Easy Mounting
• White - (Cool White) - 6,000° Kelvin
• Passive Thermal Conduction cooling
• IP67 Rated housing
Applications:
The MT-FL300x150 provides intense luminance to a broad visible spectrum. These lights can be useful in night inspection or periods of low daylight because it acts as a fill light. This allows for vivid lumination for use in outdoor applications or spray applications. Completely weatherproof, the Ruggedized Area Front Light can withstand year round elements to provide the most intense lighting needed.
The MT-FL300X150 is perfect for:
• Shop Lighting
• Law Enforcement Inspection
• Outdoor Applications
• Spray (Water, Dust, Debris) environments
• Food Inspection
• Long Range Illumination
• Process Lighting
Metaphase Technologies
3412 Progress Drive, Unit C
Bensalem, PA 19020
www.metaphase-tech.com
215.639.8699