Product News: Computer Hardware & Peripherals
Rugged Graphics Board serves SWaP-constrained environments.
Press Release Summary: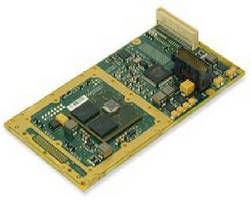 October 23, 2012 - Designed for demanding graphics applications – command and control workstations, radar consoles, and cockpit displays – in harsh environments, XMCGA7 employs AMD E6460 GPU and offers drivers for Windows® and Linux® OSs. Depending on build variant, this mezzanine provides up to 4 independent graphics channels that can be either 2 channels of DVI or VGA or 4 channels of DVI. In addition to rear outputs, board optionally offers front output.
Original Press Release
GE Announces High Performance Graphics Board for Optimum Performance in Constrained Environments
Press release date: October 16, 2012
HUNTSVILLE, AL.–GE Intelligent Platforms (NYSE: GE) today announced the XMCGA7 High Performance Graphics Board. Designed for sophisticated, demanding graphics applications in harsh environments, the rugged XMCGA7 mezzanine features the latest E6460 graphics processing unit from AMD to deliver the highest possible performance from a restricted power envelope.
Typical applications include command and control workstations, radar consoles and cockpit displays.
"For programs that are space-, weight- and power constrained and in which the graphics capability must be of the highest quality and in which outstanding signal integrity is imperative, the XMCGA7 represents the optimum solution," said Rod Rice, General Manager, Military Aerospace Products, GE Intelligent Platforms. "It features the latest generation of GPU technology to deliver the highest levels of performance."
The XMCGA7 provides a form, fit and function upgrade to its predecessor, the XMCGA6, and is a further example of GE's strategy to maximize the long term value of customer investments, minimize cost of ownership and provide support for the multi-year deployments typical of the defense industry.
Depending on the build variant, the XMCGA7 provides up to four independent graphics channels which can be either two channels of DVI or VGA or four channels of DVI.
In addition to pin-compatible rear outputs, the XMCGA7 optionally offers front output, providing greater flexibility for applications in benign environments, and also easing initial lab development.
Drivers are available for both Windows® and Linux® operating systems.
For more information: http://defense.ge-ip.com/products/3703
About GE
GE (NYSE: GE) works on things that matter. The best people and the best technologies taking on the toughest challenges. Finding solutions in energy, health and home, transportation and finance. Building, powering, moving and curing the world. Not just imagining. Doing. GE works. For more information, visit the company's website at
www.ge.com
.
A high res image can be found at: http://www.genewscenter.com/imagelibrary/detail.asp?MediaDetailsID=5138
Windows is a registered trademark of Microsoft Corporation. Linux is the registered trademark of Linus Torvalds. All other trademarks are the property of their respective owners.
Media contacts:
Ian McMurray
GE Intelligent Platforms
Phone: +44 (0) 1327 322821
Email: ian.mcmurray@ge.com