Product News: Materials & Material Processing
Roll Out Furnace targets automotive repair market.
Press Release Summary: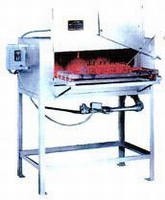 January 24, 2008 - Available in 4 standard sizes, Buzzer 450 to 1,350°F oven type furnace is designed for automotive engine rebuilding and specifically suited for cast iron/aluminum engine head repair. Insulating firebrick provides abrasion resistance and retains available heat to ensure optimal slow cooling, while fabricated stainless steel roll-out tray facilitates and accelerates casting repair. Safety pilot, 100% shut-off safety valve, and digital temperature controls are standard.
Charles A. Hones, Inc. - North Amityville, NY
Original Press Release
Expanded Oven Temperature for Roll Out Furnace
Press release date: January 22, 2008
Charles A. Hones Inc. is a leader in manufacturing a wide range of types and sizes of furnaces and burners, we are something of a "jack of all trades" shop. Because we build each furnace in house and to order, we can easily customize dimensions, BTU outputs, and accessories - and we have a great deal of experience in doing so.

We are pleased to introduce our new Buzzer 450°-1350°F oven type Roll-Out furnace, designed for automotive engine rebuilding and ideally suited for cast iron and aluminum engine head repair.

We relish the challenge of designing and building complex jobs, as well as troubleshooting all kinds of applications. Where such jobs might not be worth the "trouble" of the individual attention they require to larger or more specialized companies, we find such challenges give us a chance to learn something new, and keep things interesting in our shop.

Our unique furnace now offers a heavy engine head to 1350°F (cherry red) in preparation for crack repair welding. After the part is welded, it is returned to the Roll-Out furnace to slowly anneal (cool down) to room temperature over several hours. Slow cooling relieves stress in aluminum and cast iron, thus preventing new stress cracks from forming as the work cools. It also prevents the carbon in cast iron parts from turning to carbide and making the metal too hard and brittle to machine. The end result is a casting that is easily machined and repaired

The Buzzer Roll-Out furnace is available in four standard sizes and can be used for both aluminum and cast iron engine head repair. These furnaces are distinguished by high quality and thoughtful design. Each Roll-Out furnace comes lined with industrial quality insulating firebrick, which offers superior abrasion resistance (suitable to a machine sh0p environment) and retains available heat to ensure optimal slow cooling. The furnace is also equipped with a fabricated stainless steel "roll-out" tray, making quick casting repair possible while increasing operator safety and comfort. Factory installed safety pilot, 100% shut-off safety valve, and digital temperature controls come standard.

But perhaps our greatest strength is the quality that we strive for in every aspect of our business. That means offering our well-crafted, durable goods at reasonable prices and dealing fairly with suppliers and customers. All our castings are domestically produced. We think the high quality of our industrial gas equipment reflects not just our attention to detail, but also the pride of skilled craftsman and our abiding respect for the value of those craftsmen's labor. The way we do business is not the cheapest way, but we believe it is a better way.