Product News: Communication Systems & Equipment
RF Directional Coupler offers hard to find interfaces.
Press Release Summary: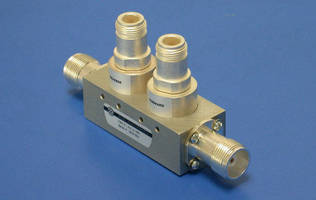 September 3, 2010 - Available with high voltage HN female coaxial interface, Model Z-344 operates in frequency range of 700-850 MHz with power handling capability of 40 kW peak power (average power is 120 W). Features include forward coupling of 43 dB isolation, reverse coupling of 33 dB isolation, insertion loss of less than 0.2 dB, and vertical standing wave ratio (VSWR) of less than 1.1 for both main and secondary lines.
Original Press Release
New RF Directional Coupler Offers Hard to Find Interfaces
Press release date: August 24, 2010
RF directional couplers are readily available with common interfaces such as N type female connectors. Aviel Electronics, a division of RF Industries, designs and manufactures RF directional couplers with uncommon interfaces such as the HN female shown in the photo. The HN coaxial interface is a high-voltage version of the N interface and is used in specialized applications. Other interfaces are available. Model number Z-344, shown in the picture, operates in a frequency range of 700 to 850 MHz with power handling capability of 40KW peak power (120W average power). Insertion loss is less than 0.2dB and VSWR is less than 1.1 for both the main and secondary lines. Forward coupling is 43 dB isolation. Reverse coupling is 33 dB isolation. Aviel Electronics designs and manufactures custom RF connector and adapter solutions. Aviel Electronics is a division of RF Industries a leading supplier of connecting solutions provided through its operating divisions: RF Connectors, RF Cable Assembly, Aviel Electronics, RF Neulink, RadioMobile and OddCables. Contact the factory with your specific requirements at
(877) 805-7381
or
(702) 739-8155,
fax (702) 739-8161,
email aviel@rfindustries.com,
web
www.avielelectronics.com
. Aviel is a division of RF Industries, a publicly traded company (NASDAQ: RFIL). Contact:
Hanh Luong
Director,
Aviel Electronics
3060 E. Post Road,
Suite 100
Las Vegas,
NV 89120
(800) 233-1728,
(858) 549-6340
Fax: (858) 549-6345
Email: aviel@rfindustries.com
Website:
www.avielelectronics.com