Product News: Material Handling & Storage
Rental Service offers CMod50 spreader frames.
Press Release Summary: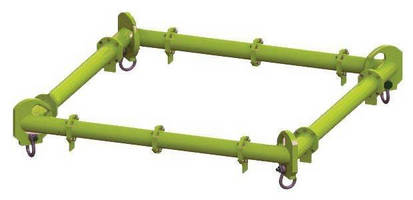 April 14, 2014 - CMOD 50 corner units, which are designed to make up spreader frame with mod 50 spreader beams, are available for rental. Spreader Frames are suited for lifts with more than 2 lifting points as well as lifts with low headroom. CMOD modular spreader frame expands capabilities of modular spreader beam. Struts from traditional modular beam, combined with 4 corner units, make square or rectangular frame to achieve 4-point lifts.
Original Press Release
Now Available: CMod50 Spreader Frames
Press release date: April 9, 2014
Bridgeview, IL – Lifting Gear Hire (LGH) has CMOD 50 corner units available for immediate rental. CMOD50 are the corner units for mod 50 spreader beams to make up a spreader frame.
Spreader Frames are useful for lifts with more than two lifting points. These are also ideal for lifts with low headroom. The CMOD modular spreader frame was designed to expand the capabilities of the modular spreader beam. The struts from a traditional modular beam are combined with four corner units to make a square or rectangular frame to achieve 4-point lifts.
Founded in 1990, Lifting Gear Hire (LGH) is the United States' largest single organization devoted exclusively to the provision of lifting and moving equipment for rent and sale. LGH provides hoisting, pulling, jacking, rigging, material handling and safety equipment available for immediate and safe use. LGH's mission is to offer expertise in the rental of the safest and most reliable hoisting and rigging equipment to build and support a better America.LGH – Puts Safety First.
www.lgh-usa.com
If you would like more information about this topic, or to schedule an interview with Lifting Gear Hire Corporation, please contact Stacy Cullotta at 1-708-598-4727 x143 or
stacy.cullotta@lgh-usa.com