Product News: Machinery & Machining Tools
Reciprocating Saw Accessory aids in right angle cutting.
Press Release Summary: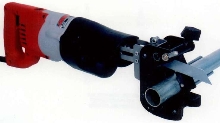 February 10, 2016 - MM-175 Mighty-Miter(TM) consists of vee-shaped vise that secures product to be cut and clamping system that can adjusted to accept material from 3/16-2 in. Attached to Milwaukee® or DeWalt reciprocating saws, vise and clamping assembly swings up towards reciprocating blade to facilitate cutting of any material at right angle. Clamping bar has chamfer at tip to permit clamping of small rods and grooved portion to prevent round material from slipping.
Original Press Release
Mighty Miter(TM) MM-175 Reciprocating Saw Accessory
Press release date: March 1, 2005
STAMFORD CT - Seatek Company has expanded its line of labor saving tools with a new concept in reciprocating saw accessories, the MM-175 Mighty-Miter(TM). The Mighty-Miter consists of a vee shaped vise securing the product to be cut with an exclusive quick clamping system. The vise & clamping assembly swings up towards the reciprocating blade which cuts virtually anything perfectly square.

o This labor saving accessory makes it a snap to cut at a right angle almost any material: round, square, or rectangular tubing, wood or plastic molding angle bar, EMT, Unistrut®, threaded rods, etc.

o The Mighty-Miter can be attached to many different Milwaukee® or DeWalt reciprocating saws. Just select the proper model for your brand - no modification required.

o The unique clamping system can be quickly adjusted to accept all different sizes of material from 3/16" to 2". The clamping bar is designed with a chamfer at the tip to permit the clamping of very small rods. A portion of the clamping bar is grooved to prevent round material from slipping.

o The Mighty-Miter can be easily removed. This permits the reciprocating saw to be used as a conventional saw by simply reinstalling the standard shoe.

o Easily cut long lengths of material right on the ground! Simply clamp the material in the vee, start the saw and apply downward pressure. The clamping assembly is designed to automatically swing upward which provides an easy way to cut heavy or large size material in place.