Product News: Electrical Equipment & Systems
Recessed Linear Fluorescent Lighting features steel construction.
Press Release Summary: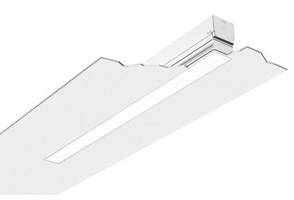 July 9, 2012 - Designed for commercial and office environments, GRUV HE comes in 4, 6, and 12 in. apertures and is offered for use in gypsum board, Armstrong TechZone(TM), USG Logix(TM), slot, and t-grid ceilings as well as standard lengths and runs. Integral bend-out mounting tabs lock on ceiling rid runners, while sliding lamp trays adjust light to end of runs to eliminate dead spots. Along with extruded aluminum trim, features include efficiencies up to 80.5% and one- and two-lamp configurations.
Original Press Release
Amerlux Introduces GRUV HE Recessed Linear Fluorescent Lighting System Featuring High Performance, Efficiency, Aesthetics and Enhanced Steel Construction
Press release date: June 26, 2012
FAIRFIELD, N.J. -- Designed to provide high-performance, visually comfortable, high efficient ambient lighting for commercial and office environments, Amerlux introduces GRUV HE, an upgraded version of the popular recessed linear fluorescent lighting system featuring steel construction, superb aesthetics, lower costs and shorter lead times. Amerlux is an industry leader of task-specific, energy-efficient lighting solutions, an innovator of lighting solutions for retail, supermarket, commercial and hospitality markets and a recent recipient of Five Next Generation Luminaires Awards. "Achieving the same high level of aesthetics while reducing costs and lead times, GRUV HE offers the perfect combination of high performance, efficiency and steel construction in architectural recessed linear fixtures," said Chuck Campagna, CEO and President of Amerlux. GRUV is perfect for a wide range of office, institutional and commercial applications including open office plans, private offices, conference areas, trading rooms, classrooms and individual workspaces. Available in 4-, 6- and 12-inch apertures, GRUV HE luminaires are offered for use in gypsum board, Armstrong TechZone(TM), USG Logix(TM), slot and t-grid ceilings and in both standard lengths as well as runs. Fixtures can be individual or continuous row-mounted using a drawer latching system that provides easy and precise joining of units for straight runs, wall runs with J channels, or in T or L shaped patterns (4" and 6" only). With improved steel construction, the GRUV HE also features integral bend-out mounting tabs to lock on ceiling rid runners, sliding lamp trays that adjust light to the end of runs eliminating dead spots. An extruded aluminum trim for precision interfacing with most ceiling suspension systems, a flush lens and design details result in a clean ceiling alignment. High performance optics includes a formed reflector made from high reflectance materials applied to steel and an engineered lens that deliver maximum efficiency, excellent light transmission and light source concealment. The GRUV HE 4", individual or continuous, features an extruded snap-in lens, T5/T5HO lamping in one- and two-lamp configurations with up to 75% efficiency and an LED option with 5W 400lm/ft or 10w 750lm/ft output with high efficacies in a range of color temperatures and standard 0-10v dimming. The GRUV HE 6", individual or continuous, also features a snap-in lens, and along with T5/T5HO one- and two-lamp options, feature long life T8 one- and two-lamp options while achieving up to 79.7% efficiency. An optional integrated LED accent light is also available. The new GRUV HE 12" offers individual one- and two-lamp configurations in T5/T5HO lamps and T8 with up to 80.5% efficiency. The 12-inch GRUV HE features a lift and shift lens that sits flush with the ceiling line and is perfect for TechZone 5'x 5' grid layouts and 30"x 30" ceiling grid tiles. Accessories include a variety of media such as a straight blade louver with acrylic overlay with 56.6% efficiency for the one-lamp configuration. GRUV HE is UL- and cUL listed. About Amerlux LLC Amerlux speaks the language of light for design and construction professionals around the world by manufacturing a broad array of optically superior, energy efficient lighting solutions for the retail, supermarket, hospitality, commercial and outdoor lighting markets. Amerlux products and services include track lighting, recessed downlighting and multiples, pendants, linear fluorescents, and custom lighting systems, as well as support for energy reduction plans that can be used as a guide to state, city and local utility rebate programs for maximum energy savings and utility incentives. The company's domestic and international clients receive the support of Amerlux's highly trained specification sales force, as well as expert service from initial design to on-time delivery made possible by strategically located manufacturing, warehousing and shipping locations. Contact: AMERLUX, LLC 23 Daniel Road East Fairfield, NJ 07004
www.amerlux.com
mail@amerlux.com T: 973.882.5010 F: 973.882.2605