Product News: Electrical Equipment & Systems
Raintight EMT Fittings require no disassembly. .
Press Release Summary: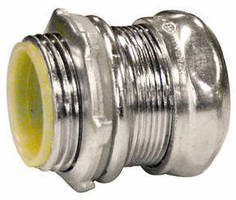 March 19, 2014 - Supplied pre-assembled, ETP™ Couplers and Connectors are ready to install on conduit with no disassembly, special tools, or torque required. Units have internal sealing and compression ring, along with KO sealing ring, to prevent water from entering into conduit, electrical boxes, or enclosures. Available in ½–4 in. sizes, steel connectors are zinc electroplated for indoor/outdoor use. Units are cULus listed as raintight and recognized as concrete tight without added electrical tape.
Original Press Release
Appleton Upgrades & Expands ETP(TM) Raintight Fittings Line
Press release date: March 10, 2014
UL Listed EMT couplers and connectors have fewer parts to reduce installation time
ROSEMONT, IL – Raintight fittings are required by code to safely ground and attach EMT raceways to electrical junction boxes or enclosures in outdoor, damp and wet locations. However, this style of fitting often wastes electricians' time because they must be disassembled and re-assembled on-site.
To help electricians make better, more efficient raintight connections, Appleton has redesigned its popular ETP™ line of cULus Listed raintight EMT couplers and connectors by drastically reducing the number of individual components that make up the fittings, resulting in faster, easier and more consistent installations. The new fittings come pre-assembled making them ready to install on the conduit like any other steel EMT compression fitting and require no disassembly, special tools or torque.
"The raintight connector category has become a little sleepy over the past few years with many manufacturers satisfied to offer electricians the same 'me-too' products," said Rick Jones, product marketing manager for Appleton. "This is why we are launching our completely redesigned and expanded line of EMT connectors... they strike a perfect balance between ease-of-installation and higher quality."
In addition to the new design, Appleton has also expanded the trade sizes available to electricians. While the older line was only offered in 1/2-inch to 2-inch sizes, the new connectors come in models from 1/2-inch to 4-inches to cover the entire installation base. All trade sizes are cULus listed as raintight and recognized as concrete tight without the need to add electrical tape.
Engineered specifically for wet locations, the new raintight fittings have an internal sealing and compression ring, along with a KO sealing ring, to prevent water from entering into conduit, electrical boxes or enclosures. The compression ring grips and maintains conductivity required for grounding. Rugged steel construction features a zinc electroplate for longer lasting performance, indoors or outdoors. 
For details, call 800-621-1506 or visit
www.appletonelec.com
.
About Appleton
Appleton is a premium line of hazardous location products under the Appleton Group family of brands. Appleton Group is a worldwide manufacturer of electrical products for virtually every type of environment. Distributors, contractors, engineers, electricians and site maintenance professionals around the world trust Appleton Group brands to make electrical installations safer, more productive and more reliable. Appleton Group is organized into three focused businesses that provide distributors and end-users expert knowledge and excellent service. It is a division of Emerson Industrial Automation and is headquartered in Rosemont, IL.
Contact:
Mary Krauss
Emerson
T (800) 621-1506
mary.krauss@emerson.com
Dan O'Connell
O'Connell Communications
T (708) 482-0212
dan@oconnellpr.com