Product News: Electrical Equipment & Systems
Rackmount Surge Protector features 12 module capacity.
Press Release Summary: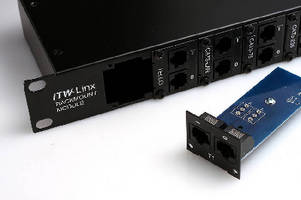 January 28, 2013 - Using solid state technology, SurgeGate™ Modular Rackmount Surge Protector ensure safety with response time of 1–5 ns. Mix and match unit offers 6 types of protection: Cat5 E-LAN, Cat5 E-POE, Cat5 E-75, Cat5 E-235, T1, and Telco CO line on single 12 module rack. Because rack comes with common grounding wire, there is no need to ground each module. UL 497 listed and tested to TIA standards, 19 in. wide, 1U high surge protector is suited for campuses, financial facilities, and medical facilities.
ITW Linx, an ITW Electronic Component Solutions Company - Carol Stream, IL
Original Press Release
SurgeGate(TM) Modular Rackmount Surge Protector Offers Savings of up to 40% in Costs, 80% in Labor Requirements
Press release date: January 22, 2013
Mix and match surge protector with 12 module capacity is unique in marketplace

CAROL STREAM, IL – ITW Linx announces the global launch of its innovative SurgeGate™ Modular Rackmount surge protector. Providing warranty-backed protection and flexibility unmatched in the market, the mix and match 12 module technology offers a wide range of benefits over conventional, fixed wall mount surge protectors. The innovative technology features industry-leading response time and can generate significant cost, labor and space savings.

Through the use of solid state technology, The SurgeGate™ Modular Rackmount ensures enhanced safety and the fastest protection time in the industry with a response time of 1-5 Nanoseconds.

Unlike standard pre-assembled surge protectors, the SurgeGate™ Modular Rackmount is the only mix and match surge protector on the market that offers six types of protection: Cat5 E-LAN, Cat5 E-POE, Cat5 E-75, Cat5 E-235, T1 and Telco CO (central office) line on a single 12 module rack.

Users can install anywhere from one to 12 modules depending on surge protection requirements. New modules can be added in the configuration and numbers needed to meet evolving surge protection needs. The ability to use one single protector for up to 12 technologies can generate cost savings up to 40%. Because the single rack comes with a common grounding wire, there is no need to ground each of the individual modules, leading to up to an 80% reduction in installation time requirements. The single grounding wire also helps minimize grounding errors in the installation of multiple surge protectors, further enhancing technology safety.

The SurgeGate™ Modular Rackmount is also the only warranty-backed product of its kind that is UL 497 listed and tested to TIA (Telecommunications Industry Association) standards- providing the greatest possible protection against expensive downtime and equipment damage.

ITW Linx's SurgeGate™ Modular Rackmount surge protector applications can be used in a diverse range of networked buildings including:
• Campuses: schools, office parks
• Financial facilities: banks, retail stores
• Medical: hospitals, doctors offices

The SurgeGate™ Modular Rackmount surge protector is 19" wide and 1U high devices. The MSRP for the rackmount chassis is $399. The surge protection modules used in the rackmount are sold separately at $45.50 per module in production volumes. The technology is available in-stock from a number of leading distributors including Graybar, Anixter, Catalyst Telecom, Jenne, Teledynamics and Fontel. The technology can also be ordered directly from ITW Linx with a lead time of six to eight weeks. ITW Linx can provide expert technology integration support. 

ITW Linx Contact Information
For additional information or engineering assistance:  Frank Maturo via email at fmaturo@itwlinx.com or at 1-800-336-5469
In North America, EU and Asia, contact ITW Linx´s Sales Department, 425 N. Gary Avenue, Carol Stream, IL 60188 USA.  Phone: 1-800-336-5469.  Fax: (630) 315- 2151. E-mail: sales@itwlinx.com Web: www.itwlinx.com  

About ITW Linx
ITW Linx has been manufacturing lightning and surge protection products for over 25 years. The company´s US-based engineering team is devoted to designing and testing to the toughest standards in the industry. Manufacturing facilities in the U.S. and abroad to minimize time to market and maximize global presence.

ITW Linx offers a full line of lightning and surge protection products covering the breadth of the telecom, datacom and physical security markets. From rack mount solutions to pair by pair block protectors, ITW Linx provides protection solutions ranging from basic systems to cutting-edge technologies.

About the ITW Photonics Group - The ITW Photonics Group was created to bring together and build on the technical expertise of individual companies that specialize in photonics technology and span the full spectrum of wavelengths.  The group consists of:
• Lumex - LED and LCD technology
• Cal Sensors - IR Detector and Emitter technology
• Opto Diode Corp - LED, Silicon Photodiodes and Electro-Optical Assembly technology
• ITW Linx – Surge protection technology

The synergy of these industry front-runners provides an unsurpassed range of photonic capabilities within a broad spectrum of markets, including medical, military and industrial controls.  The ITW Photonics Group provides integrated solutions that encompass the technology and experience from all threebusiness units, offering design engineers higher performance with greater feature enhancements. For more information on the ITW Photonics Group, go to www.itwphotonicsgroup.com
 ;