Product News: Controls & Controllers
Quad-Channel Driver Module controls Open-Loop Picomotor.
Press Release Summary: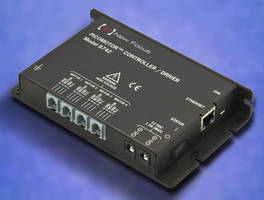 December 19, 2012 - Featuring single-box design with integrated controller and driver and 4 channels, Model 8742 Open-Loop Picomotor™ controller/driver module can be computer controlled with plug-and-play functionality via USB 2.0 and 10/100 Ethernet interfaces using Newport's Motion Control Language (NMCL) command set. Features include Picomotor auto-detection technology, embedded dynamic HTTP server, as well as connectivity supported by LabVIEW™ and Windows™ DLL.
Original Press Release
New Focus Introduces Open-Loop Picomotor(TM) Controller/Driver Module with 4 Channels
Press release date: December 17, 2012
Santa Clara, CA – New Focus™, a Newport Corporation Brand, announces the new Model 8742 Open-Loop Picomotor controller/driver module with 4 channels. The compact, single-box design with an integrated controller and driver provides a low-cost solution for driving New Focus open-loop Picomotor products.  The new module can be computer controlled with plug-and-play ease via the USB 2.0 and the 10/100 Ethernet interfaces using Newport's Motion Control Language (NMCL) command set.

Advanced features for Model 8742 include the innovative Picomotor auto-detection technology, an embedded dynamic HTTP server, and connectivity that is supported by LabVIEWTM and Windows™ DLL.  The intuitive graphical user interface (GUI) Windows application includes a device auto-discovery component.  This open-loop Picomotor controller/driver is being offered as a stand-alone unit or as a 4-axis kit to include all the necessary cables and accessories. This kit is also bundled with two ClearEdge Picomotor mounts to provide a quick and easy start.

Each controller/driver can control one of four 4-pin RJ-22 single output ports for use with any single-channel Picomotor actuator at any given time.  Other accessories include a multi-axis adapter that can be used to connect the 4-pin RJ-22 output ports to New Focus Picomotor products with 6-pin RJ-11 connectors, making this instrument extremely flexible.  Ideal for a wide variety of scientific applications, Newport's 4-channel controller/driver is CE and ROHS compliant and is available now for immediate shipping.

For more information about Model 8742 Open-Loop Picomotor controller/driver, please go to:  http://www.newport.com/8742.

About Newport Corporation

Newport Corporation is a leading global supplier of advanced-technology products and systems to customers in the scientific research, microelectronics manufacturing, aerospace and defense/security, life and health sciences and precision industrial manufacturing markets.

Newport's innovative solutions leverage its expertise in high-power semiconductor, solid-state and ultrafast lasers, photonics instrumentation, sub-micron positioning systems, vibration isolation, optical subsystems and precision automation to enhance the capabilities and productivity of its customers' manufacturing, engineering and research applications. Newport is part of the Standard & Poor's SmallCap 600 Index and the Russell Microcap Index.

Company Contacts:
Pete Neely
Director, Marketing Communications
Tel: 800-222-6440 / +1 949-863-3144
E-mail: pete.neely@newport.com

Sandy Wang
Product Manager – New Focus Group
Tel : 408-980-5554
Email : sandy.wang@newport.com

Marlene D. Moore
Advertising • Marketing • Public Relations – for Advanced Technologies
818-708-1704 / Fax: 818-344-7179
Cell: 818-512-6090
marlene@smithmillermoore.com