Product News: Sensors Monitors & Transducers
Proximity and Illuminance Sensor controls smartphone screens.
Press Release Summary: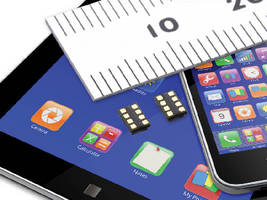 May 15, 2014 - Measuring 3.05 x 2.10 x 1.10 mm, Model LT-1PA01 integrates optical proximity sensor and illuminance sensor. Proximity sensor uses photoreceptor to measure distance to object based on amount of returned light, while another photoreceptor is used to detect amount of ambient brightness. Consuming just 80 µA during proximity sensing, surface mounted device features illuminance sensing angle of ±45° at 50% and sensing distance up to 70 mm with gray card.
Original Press Release
Murata Develops World's Smallest Combined Proximity and Illuminance Sensor
Press release date: May 1, 2014
Hoofddorp, Netherlands: Murata today announced what it believes to be the world's smallest combined proximity and illuminance sensor. The surface mounted LT-1PA01 device measures just 3.05 x 2.10 x 1.10 mm and integrates both an optical proximity sensor and an illuminance sensor. The proximity sensor uses a photoreceptor to measure the distance to an object based on the amount of returned light. Another photoreceptor is used to detect the amount of ambient brightness. Such sensors are widely used in smartphones to darken the screen when the phone is near the user's face during a call or to increase the brightness of the screen's backlight when used outdoor.
The device has an extremely low power profile, consuming only 80 uA during proximity sensing. Illuminance sensing angle is +/-45 degrees at 50% and sensing distance is up to 70 mm with gray card. Operating voltage is +3.3 VDC. Communication with the host processor is via I2C serial communications.
Mass production is scheduled to begin in May 2014.
For further information and reader enquiries:
Aya Tonooka
Murata Europe Limited
Oak House, Ancells Road
Ancells Business Park, Fleet
Hampshire  GU51 2QW , United Kingdom
Tel: +44 (0) 1252 811666 
Fax:  +44 (0) 1252 811777 
E-mail:
atonooka@murata.co.uk
Web:
www.murata.eu
About Murata
Murata is a leading manufacturer of electronic components, modules, and devices. The complete range of this Technology house includes ceramic capacitors, resistors/thermistors, inductors/chokes, ceramic resonators, buzzers, sensors and EMI suppression filters. Whilst the company gets the majority of its revenue from its ceramic capacitor products, it is also the world leader in Bluetooth® & WiFi™ Modules, the world's no.1 manufacturer of board-mount DC-DC converters and is a key manufacturer of standard and custom AC-DC power supplies. Murata also designs and manufactures mobile handset antenna families, piezoelectric actuators for fuel injection systems and short focal length ceramic lenses.
Established in 1944, Murata is headquartered in Japan and has European offices in Germany, the Netherlands, the UK, Switzerland, Italy, France, Spain, Finland and Hungary.
For more information on Murata, please visit:
www.murata.eu
. You can also follow us on Twitter @MurataEurope or LinkedIn
http://www.linkedin.com/company/murata-electronics
, or join us on Facebook at
http://www.facebook.com/MurataElectronics
.