Product News: Safety & Security Equipment
Protective Work Glove lets wearers use touchscreen devices.
Press Release Summary: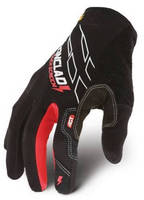 October 24, 2012 - While designed for optimal protection, fit, and dexterity, TouchScreen work glove employs TS1™ technology that lets wearers operate touchscreen devices. TS1 material, sewn onto fingertips of gloves, covers entire palm side of glove and draws connectivity from palm to ensure maximum amount of conductivity is available at thumb and fingertips. Thus users can operate touchscreen devices, in clean and dirty conditions, without removing protective gloves.
Ironclad Performance Wear - Farmers Branch, TX
Original Press Release
Ironclad Performance Wear Introduces the TouchScreen Performance Work Glove
Press release date: October 17, 2012
Unique Fabric, Technology and Design Enables Full Palm Conductivity
LOS ANGELES -- Ironclad Performance Wear Corporation (ICPW), the recognized leader in high-performance task-specific performance work gloves, introduces the TouchScreen performance work glove specifically designed to keep hard working men and women protected and connected.
"Purpose-built and designed from the ground up, the TouchScreen glove enables the user to operate touch-screen devices without ever having to remove his or her gloves," said Fred Castro, Vice President of Sales Marketing. "Built on the chassis of Ironclad's recently introduced Mechanic glove, the TouchScreen glove provides superior protection, fit and dexterity, while simultaneously permitting the use of touch-screen devices."
The Ironclad TouchScreen glove, with exclusive TS1(TM) technology, addresses the needs of people who are surrounded by touch-screen devices while doing a job. The TS1 material is more than a special material that is sewn on to the fingertips of the gloves; it covers the entire palm side of the glove. Drawing connectivity from the entire palm of the hand ensures that the maximum amount of conductivity is available at the thumb and fingertips, and that the glove works in both clean and dirty conditions."
The company will present the Ironclad TouchScreen glove at three upcoming major trade shows:
--  2012 National Safety Council Expo, Orlando, FL, October 22 - 24, 2012
--  SEMA (Automotive) Show 2012 (Specialty Equipment Market Association), Las Vegas, NV, October 30 - November 2, 2012
--  STAFDA 2012 Annual Convention & Trade Show (Specialty Tools & Fasteners Distributors Association), Orlando, FL, November 4 - 6, 2012
About Ironclad Performance Wear Corporation
Ironclad Performance Wear is an aspirational brand leader in technical, task-specific, performance work gloves, having created the performance work glove category in 1998. The company continues to leverage its leadership position in the safety, construction and industrial markets through the design, development and distribution of specialized task-specific gloves for numerous industries, including oil & gas exploration, automotive and construction, as well as police, fire, first-responder and military. Ironclad engineers and manufactures its products with a focus on innovation, design, advanced material science and durability. Ironclad's gloves are available through industrial suppliers, hardware stores, home centers, lumber yards, auto parts stores and sporting goods retailers nationwide, and through authorized distributors in North America, Europe, Australia and Asia.
Built Tough for the Industrial Athlete(TM)
For more information on Ironclad, please visit
www.ironclad.com
.
Media Contact:
Shawn Norfolk, Director of Marketing
shawnn@ironclad.com
(310) 643-7800 x127