Product News: Fluid & Gas Flow Equipment
Progressing Cavity Pump is programmed via PC.
Press Release Summary: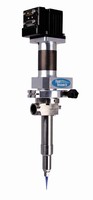 April 1, 2008 - PC/PC single-component Progressing Cavity pump incorporates progressing cavity positive displacement technology and can be programmed via USB cord attached to PC. Software sets speed, reverse-flow action, and dispensing cycle. Able to move viscious material, device has low shear factor, repeatability, and is self-priming.
Original Press Release
New PC Programmed Single Component Dispensing Takes All Guesswork out of Dispensing
Press release date: April 1, 2008
[Tustin, CA] - Fluid Research, the leading innovator and manufacturer of precision dispensing equipment released the PC/PC single component Progressing Cavity pump.

"The new PC/PC incorporates both Progressing Cavity positive displacement technology and PC programming," States Dave Fillo, Fluid Research Corporation's Product Manager for Progressing Cavity pumps, "This system combines the benefits of both using a Progressing Cavity pump with a compact, versatile design and the ability to change dispense programs by plugging in your laptop and setting the program."

"The PC/PC shares all of the features of our other Progressing Cavity pumps - extreme low shear factor, ability to move viscous material, repeatability, and self priming; however our PC/PC pump also can be programmed via USB cord attached to your PC." Cites Fillo, "The PC software sets the speed, reverse-flow action and dispensing cycle quantitatively and measurably. You plug your PC in, tell the PC/PC pump what cycle you wish to run; unplug your PC and let the pump do all of the work!"

Fluid Research also recently introduced other new dispensing equipment, acquired a new facility to triple their manufacturing floor space, acquired new management staff, and added a new material testing lab. Fluid Research is dedicated to educating its customers to the benefits of automation; from efficiency and consistency to health and safety; automation elevates these features to a level that cannot be obtained anywhere else.

Fluid Research Corporation was founded in 1996 to provide superior accuracy in dispensing single and multiple component adhesives, sealants and polymers. The company currently holds multiple U.S. foreign patents for its proprietary technology, which uses Progressing Cavity pumps and sophisticated electronic controls in an extensive line of metering and dispensing systems. Typically custom-engineered to user specifications, Fluid Research equipment can be found in a wide variety of industries, including automotive components, aerospace fabrication, electronics, solar energy systems, electrical power systems, polymer molding, chemical fastening, dome labeling, health and beauty, medical electronics, sporting goods, and filtration equipment.

For more information Contact: Fluid Research Corporation sales@fluidresearch.com 15775 Gateway Circle Tustin, CA 92780 Phone: 714.258.2350 Fax: 714.258.2352 Website: www.fluidresearch.com Email: sales@fluidresearch.com