Product News: Controls & Controllers
Programmable Hall Device customizes position sensor output.
Press Release Summary: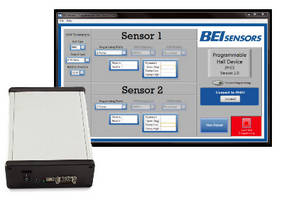 February 12, 2013 - Interfacing between PC and BEI Hall-effect sensors, Programmable Hall Device enables users to field program both analog and PWM output functions that meet specific requirements. Unit also offers ability to set high and low clipping points, program binary/switch output, and program multiple points along assembly movement trajectory for optimal output precision. With included PHD software, output routines can be created, stored, and recalled for later use.
Original Press Release
Customize Position Sensor Output with the Programmable Hall Device (PHD)
Press release date: February 7, 2013
Goleta, CA – BEI Sensors introduces the Programmable Hall Device (PHD), an easy way to take control of customizing the output of BEI Hall effect sensors. This compact programming unit interfaces between a PC and BEI Hall effect sensors, and provides users with the ability to field program output functions that meet specific requirements. The PHD can be used for both analog and PWM outputs. Additional features include the ability to set high and low clipping points, program binary/switch output, and program multiple points along the assembly movement trajectory for even greater output precision.

The included PHD software makes programming simple with a user-friendly screen where output routines can be created, stored and recalled for later use. The PHD software offers a real-time graphical representation of the sensor output allowing verification of the sensor's functionality after programming. The system also gives users the ability to lock the sensor to prevent accidental reprogramming.  With the PHD, BEI Hall effect position sensors can even be programmed directly in place using the actual assembly movement as the sensor input.  This allows users to match the full range of the assembly precisely with the sensor output.  BEI Sensors can also provide users adaptations to the PHD system to fit their exact application needs.

For more information including data sheet and user guide, visit www.beisensors.com/phd

About BEI Sensors
BEI Sensors specializes in speed and position sensors for extreme applications. With an extensive product offering including optical and magnetic encoders, Hall effect sensors, and potentiometers, BEI offers standard configurations to completely customized solutions.  Specialized products for extreme applications include those for wash-down and corrosive environments, extended operating temperatures, high shock and vibration, wet and dirty operations and products certified for hazardous area use.  BEI Sensors upholds a standard of excellence in our products, customer service experience, and commitment to being a global leader in speed and position sensor technology.  BEI Sensors is a brand of Custom Sensors & Technologies (CST).

About Custom Sensors & Technologies:
Custom Sensors & Technologies (CST) is a specialist in sensing, control and motion products. Through its brands, BEI Kimco, BEI Sensors, BEI PSSC, Crouzet, Crydom, Kavlico, Newall and Systron Donner Inertial, CST offers customizable, reliable and efficient components for mission-critical systems in Aerospace & Defense, Transportation, Energy & Infrastructures, Commercial & Industrial OEMs, Medical, Food and Beverage and Building Equipment markets. Focused on premium value offers and committed to excellence, CST, with 4,700 employees worldwide and sales of $660M US in 2011, is the dependable and adaptable partner for the most demanding customers.
www.cstsensors.com