Product News: Sensors Monitors & Transducers
Pressure Transducer affords flexibility via modularity.
Press Release Summary: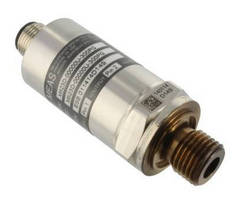 February 28, 2014 - Supplied in stainless steel housing, CE-compliant and weatherproof M5200 is suitable for measuring liquid or gas pressure. Various pressure ports and electrical configurations are available, and there are no o-rings, welds, or organics exposed to pressure media. Featuring pressure range of 50–15,000 psi in gage, sealed, and compound gage pressure reference types, transducer offers pressure accuracy of ±0.25% FS BFSL and operates from -40 to +125°C. Several options are available.
Measurement Specialties, Sensor Products Div. - Valley Forge, PA
Original Press Release
Modular M5200 Industrial Pressure Transducer
Press release date: February 21, 2014
Measurement Specialties, Inc. (NASDAQ: MEAS) has just released to production its new modular M5200 industrial pressure transducer from its Microfused™ line that offers maximum flexibility for different configurations. Constructed of a stainless steel housing, this transducer is suitable for measurement of liquid or gas pressure, even for difficult media such as contaminated water, steam and mildly corrosive fluids. The M5200 is CE compliant, weatherproof, compact, and offered in a variety of pressure ports and electrical configurations. It sets a new price performance standard for demanding commercial and heavy industrial applications.
With no o-rings, welds or organics exposed to the pressure media, the M5200 boasts a pressure range of 50 – 15,000psi in gage, sealed and compound gage pressure reference types. Operating at -40°C to +125°C with a pressure accuracy of ±0.25 %F.S. BFSL, this pressure sensor can withstand proof pressure of at least 2X rated while its burst pressure can withstand 5X rated. At a ±1.0% F.S. TEB (Total Error Band) and a current consumption of <5mA (V output), the M5200 also has several useful options which include having a port material of either 17-4PH or 316L, optional stainless steel snubber, and your choice of either adhesive label or laser marking.
This modular industrial pressure transducer excels at various applications such as: industrial process control and monitoring, advanced HVAC systems, refrigeration systems, automotive test stands, off-road vehicles, pumps and compressors, hydraulic/pneumatic systems, agriculture equipment, and energy generation and management. Please contact our team of experienced engineers for more custom configurations of this pressure sensor to meet your specific application needs.
Measurement Specialties, Inc. designs and manufactures sensors and sensor-based systems. The company produces a wide variety of sensors and transducers to measure precise ranges of physical characteristics such as pressure, force, vibration, torque, position, temperature, humidity, fluid properties, mass air flow and photo optics. Measurement Specialties uses multiple advanced technologies – including  piezo-resistive, electro-optic, electro-magnetic, variable reluctance, magneto resistive, digital encoders, thermistors, thermocouples, RTDs, capacitive, resonant beam, application specific integrated circuits (ASICs), micro-electromechanical systems (MEMS), piezoelectric polymers and strain gauges to engineer sensors that operate accurately and cost-effectively in customers' applications.
For more information about Measurement Specialties and our products, e-mail
pfg.cs.amer@meas-spec.com
or visit us at
www.meas-spec.com
.
Bobby Lee
Office (510) 498-1570 x241
bobby.lee@meas-spec.com