Product News: Sensors Monitors & Transducers
Pressure/Temperature Gauge operates with gases and liquids.
Press Release Summary: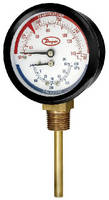 May 9, 2012 - Combining individual pressure gauge and thermometer in one instrument, Series TRI2 features moveable dial with blue pressure markings and red temperature markings. Internal Bourdon tube assembly indicates pressure in both psi and kPa, while bimetal coil assembly measures temperature in both °F and °C. Available in rear and lower connect models, gauges are suited for use on boilers and other hot water applications where space is limited.
Dwyer Instruments, Inc. - Michigan City, IN
Original Press Release
NEW Series TRI2 Dual Purpose Pressure/Temperature Gage
Press release date: May 8, 2012
Dwyer Instruments, Inc., the preferred source for your complete range of practical and affordable instrumentation, is announcing the release of its NEW SERIES TRI2 TEMPERATURE AND PRESSURE GAGE. The New Series TRI2 combines the value of an individual pressure gage and thermometer in one instrument. The internal Bourdon tube assembly indicates pressure in both PSI and kPa, while the temperature is measured with a bimetal coil assembly in both Fahrenheit and Celsius. These dual indicating pressure/temperature gages come in both rear and lower connect models for versatility and convenience. Our new TRI2 gage is perfect for use on boilers and other hot water applications where space limitations and installation costs are a consideration. Complete details are available on our website @
www.dwyer-inst.com/Product/Pressure/SinglePressure/Gages-Dial/SeriesTRI2