Product News: Machinery & Machining Tools
Press Brakes come in 35-50 ton configurations.
Press Release Summary: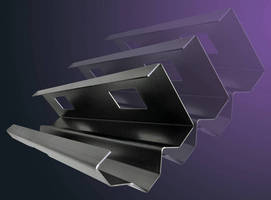 September 9, 2010 - Achieve bending speeds to 47 ipm, mid-range press brakes of PPEC series include 30-50 ton versions that have ruggedized design and are designed for fast, accurate bending of smaller piece parts. Brakes are equipped with Energy Reduction System (ERS) as well as LVD's CADMAN® Lite control, which offers 2D graphic programming with automatic collision detection as well as direct angle or quick bend programming. These models also include 2- or 4-axis back gauge.
Original Press Release
Lvd Strippit Offers Additional Models of PPEC Series Press Brakes from 35 to 50 Tons
Press release date: September 3, 2010
Akron, NY -- LVD Strippit now offers 35 to 50 ton configurations of its PPEC series of mid-range press brakes. PPEC press brakes combine a rugged, simple design and easy-to-use features to provide performance and value for forming applications.
The new 35 to 50 ton configurations complete the PPEC product line, which will now include models from 35 to 220 tons in bend lengths from 1500 to 4270 mm. The smaller tonnage PPEC machines are fast, compact, simple to operate, and energy efficient. These PPEC models achieve bending speeds up to 47 inches per minute (20 mm per second), providing fast, accurate bending of smaller piece parts. An Energy Reduction System (ERS) featured on PPEC machines reduces cost of operation by offering energy savings of up to 30 percent over comparable designs.
Like all PPEC press brakes, the new 35 to 50 ton models are equipped with LVD's CADMAN® Lite control. Based on the same easy-to-use platform as the full-featured CADMAN® Touch control, CADMAN Lite offers a number of the same key features, including 2D graphic programming with automatic collision detection, direct angle or Quick Bend programming, and connection with LVD's CADMAN-B offline programming software.
PPEC press brakes feature a rugged, welded one-piece frame machined without repositioning guaranteeing machine precision. Hydraulic cylinders are machined from a solid steel billet.
Pistons are steel forgings, precision ground and micropolished for years of trouble-free service.
Microprocessor Technology is linked to servo-controlled state-of-the-art hydraulics and electronics to ensure perfect control of the bending process and optimum precision. Double bed referenced encoders are connected to the bed in such a way that deformation of the side frames during bending does not influence the positioning accuracy of 0,01 mm of the upper beam (Y1-Y2).
PPEC 35 to 50 ton models include a two-axis (X, R) or four-axis back gauge (X, R, Z1, Z2). A choice of tooling style is offered.
ABOUT LVD The LVD Group is a leading manufacturer of a comprehensive range of sheet metal/plate working machine tools and software solutions, including laser cutting systems, punch presses, press brakes, guillotine shears and mid-level automation systems, integrated and supported by its CADMAN® PC-based Windows® compatible software.
For more information, contact Strippit, Inc., 12975 Clarence Center Road, Akron, NY 14001, call toll free 1-800-828-1527, e-mail: marketing@strippit.com or visit
www.lvdgroup.com
.