Product News: Test & Measuring Instruments
Power Analysis Datalogger serves single-phase AC applications.
Press Release Summary: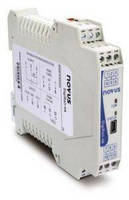 June 17, 2014 - DigiRail-VA measures AC signals and retransmits them using analog and digital means. Specifically, this DIN rail-mounted unit measures and calculates voltage from 0–300 Vac (True-RMS); current from 0–5 Aac (True-RMS); active, reactive, and apparent power; frequency from 45–65 Hz; and power factor from 0.00–1.00. RS485 /Modbus-RTU interface, with 1,200–115,200 baud rate and configurable parity, facilitates access to all parameters by any SCADA package or Modbus-capable PLC.
Original Press Release
Novus DAQ Products on Display at Sensor & Test Expo
Press release date: June 16, 2014
Versatile and Cost-Effective Monitoring Solutions
CHESTERLAND OH — If you were unable to attend Sensor + Test in Nurnberg, Germany this past week please join Novus Automation at the Sensors Expo & Conference in Rosemont, IL USA, June 25-26th. Sensors Expo & Conference exclusively focuses on sensors and sensor-integrated systems and is one of the largest and most important gatherings of engineers and scientists involved in the development and deployment of sensor systems. Attendees come from all over the world to examine technology for their present challenges while exploring sensing technologies driving tomorrow's solutions. CAS DataLoggers is the North American Master Distributor for Novus and offers products such as the flexible new Novus DigiRail-VA to measure, record, and analyze AC in many different applications.
Just this month CAS DataLoggers and Novus Automation jointly announced the latest addition to the successful and cost-effective DigiRail family—the new DigiRail-VA Single-Phase Power Analysis Datalogger, competitively priced at $299. Specifically designed for single-phase AC power analysis applications, these data loggers measure users' most important AC signals and retransmit them in both analog and digital ways.
The new DigiRail-VA measures and calculates:
• Voltage: 0 to 300 Vac (True-RMS)
• Current: 0 to 5 Aac (True-RMS) – The data logger allows use of CTs for higher-current applications
• Active Power
• Reactive power
• Apparent power
• Frequency: 45 to 65 Hz
• Power Factor: 0.00 to 1.00
This compact, DIN rail-mounted unit features RS485 /Modbus-RTU interface as standard (baud rate from 1200 to 115200, configurable parity) allowing easy access to all parameters by any SCADA package or Modbus-capable PLC.
CAS DataLoggers also offers the bestselling FieldLogger RTU 8-Channel Universal Input Data Logger, a versatile, powerful and cost-effective industrial data logger which handles analog and digital signals with high resolution and speed along with expansion modules and wireless communication accessories. The Novus FieldLogger is a microprocessor-based data acquisition and recorder designed to handle any analog input and operates either as an RTU linked to a PC for online recording and supervision, or as a stand-alone data logger with real-time clock and graph capabilities. This low-cost logger is widely used as a Modbus RTU input device as part of a SCADA system to transmit channel data using Modbus protocol.
With 8 universal channels accepting different input sensors simultaneously, these high-speed industrial dataloggers have lots of available memory and many connectivity options along with expansion modules and wireless communication accessories.
Additionally, the FieldLogger has one digital input for remote start/stop and 2 alarm relay channels which can be activated when any channel enters a programmed alarm condition. Operators can also use these relays as digital outputs.
FREE FieldChart configuration utility software is Windows-compatible and performs the communication and data treatment for the FieldLogger recorder and Novus controllers with RS485. The main module collects data to the PC, displays the data in both digital and graphic formats in batches or in real time, and provides trend and historical views. FieldChart can zoom in and out, superimpose or link graphs in one screen, print graphs or lists, and export to spreadsheets or word processors. FieldChart can also read and record a graph for a 10-minute period. Users have the option to upgrade to the full FieldChart analysis software to allow the Field Logger to form a complete data acquisition system.
For more information on our Novus data acquisition systems which are deployed in a wide range of temperature and pressure monitoring applications, or to find the ideal solution for your application-specific needs, contact a CAS Data Logger Applications Specialist at (800) 956-4437 or visit the website at
www.DataLoggerInc.com
.
Contact Information:
CAS DataLoggers, Inc.
12628 Chillicothe Road
Chesterland, Ohio 44026
(440) 729-2570
(800) 956-4437
sales@dataloggerinc.com
www.dataloggerinc.com