Portable Projector delivers Hi-Res images direct from USB drive.
Press Release Summary: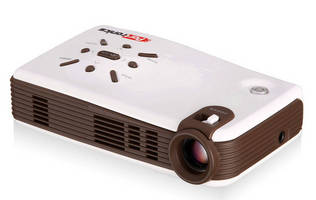 February 10, 2012 - Powered by built-in 3,000 mAh Li-ion battery that provides 2 hr of operation on one charge, POR 315 Pico projector can deliver colorful images with up to 80 in. diagonal and 1,024 x 600 resolution directly from USB drive. SD card slot allows memory expansion, while standard I/O - USB, VGA, HDMI, and composite video - fosters connection to analog/digital devices. In addition to 45 lm optical engine powered by LCOS, features include 1 W onboard speaker and 20,000 hr LEDs.
Original Press Release
Portronics Unveils POR 315 Pico Projectors
Press release date: February 6, 2012
- Portable, Palm-sized, 45 Lumens, High Definition, 20,000 hours life-
New Delhi: Portronics, one of the emerging pioneers in innovative, portable and digital devices is thrilled to announce the launch of POR 315 Pico projector, one of the India's brightest battery-powered Pico projectors. The Palm-sized POR 315 Pico projector enables one to live the High definition lifestyle with additional HDMI input, resolution supporting 1024X600.
The Light weighted POR 315 is both a true pocket projector and a powerful mobile computing platform. It has SD card slot which allows for memory expansion featuring in-built lithium ion battery of 3000 mAh, providing back up of two hours on a single charge. The portable projector is convenient to use as it provides direct projection from the USB drive.
Additional features include composite video input, VGA input, and 1 watt onboard speaker. The POR 315 Pico projector comes with a dazzling 45 lumen optical engine powered by LCOS Combined with vibrant colors the POR 315 features long-life 20,000 hour LEDs and can deliver a brilliant colourful image up to 80". Full assortment of I/O ports, including USB, VGA, HDMI and video, allows for easy connection to most analog or digital devices.
Salient features
Truly portable - Palm-sized, lightweight, and rechargeable
SD card slot allows for memory expansion
45 Lumens - Project large widescreen images of up to 80" diagonal


LED light source lasts over 20,000 hours while producing excellent colour
Full assortment of I/O ports, including USB, VGA, HDMI and video, allows for easy connection to most analog or digital devices

Portronics POR 315 Pico projector supports the following business formats
 Type      Supported file formats Picture     JPEG, BMP, PNG         .jpg.bmp.png  Video      MPEG1, MPEG2, MPEG4, H264, RM, RMVB, MOV, MJPEG, VC1, DivX, FLV         .avi.mpg.dat.vob.div.mov.mkv.rm.rmvb.mp4.mjpeg.ts.trp.wmv.asf.flv Music      WMA, MP3, M4A, AAC         .wma.mp3.m4a
Pricing and Availability: Priced at Rs. 23,000/-, the Portronics POR 315 Pico projector is available across the country.

The projector has no maintenance cost.

About Portronics India: Portronics India, deals in Innovative, Portable and Digital devices that improve the efficiency and effectiveness of Enterprises and individuals. With a PAN India presence, Portronics is committed to deliver its products anywhere in India. The sole provider of superior portable Digital innovative solutions serving both the Retail and the Enterprise segments, Portronics aims to fulfil the need of every customer by providing innovative and elegant digital solutions, outstanding customer service, increased flexibility, and greater value and thus optimizing system functionality and improving operation efficiency. For more information please visit www.portronics.com/