Product News: Non-Industrial Products
Portable Podium has suitcase-based design.
Press Release Summary: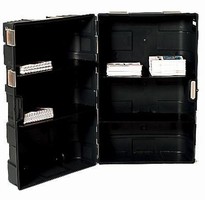 May 17, 2007 - Expand PodiumCase enables users to load and unload items by folding it open, creating a surface to work at while giving user access to display contents inside. Case provides countertop when coupled with optional wooden top as well as offering protection for displays beneath. Detachable shelves, to hold items such as brochures and demo products, are available.
Expand International of America, Inc. - Stratford, CT
Original Press Release
Expand PodiumCase
Press release date: May 15, 2007
The Expand PodiumCase is an easy-to-handle podium case that also holds and protects your valuable display. This case is unique since it is based on the concept of a suitcase and not a trashcan. The task of loading and unloading your display items is made easier since you no longer have to lift heavy items in or out of the top of the case. The Expand PodiumCase is designed to open like a suitcase, you can easily load and position your items. The Expand PodiumCase can quickly and easily be turned into a spacious counter. To create the counter, just open the box and put on the optional wooden top. The counter has a unique shape and provides a large surface to gather around at your event. Inside, the optional, detachable shelves hold your brochures, demo products or anything else you may want to remove from site. By adding a graphic wrap you can also use the front of the case for extra exposure of your message or your logo. The Expand PodiumCase is a perfect transport box for Expand 2000, Expand MediaFabric and our other products. For more information please go to:
www.expandmedia.com/Templates/Product2.aspx?PageID=77197852-f036-4955-b8aa-d160cc72ff5f