Product News: Test & Measuring Instruments
Portable Pipe Camera inspects remote areas.
Press Release Summary: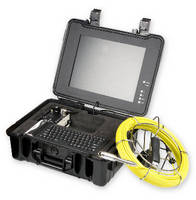 January 16, 2014 - Combining navigation, viewing, and documenting capabilities, SeaSnake Inspection System comes with IP68 waterproof fiberglass probes in 65.6, 114.9, and 131.2 ft lengths. Detachable camera head, measuring 1.0 in. in dia, is protected by anti-scratch Sapphire lens. Additional components include 12 white LEDs, spring coiled joint for navigation through bends, and 2 plastic camera centralizing skids. Control unit is equipped with 15 in. HD color TFT display, splash-proof keyboard, and microphone.
Fiberscope.net by MEDIT - Winnipeg, MB, CAN
Original Press Release
New User-Friendly, Portable Inspection System from MEDIT - SeaSnake
Press release date: January 15, 2014
SeaSnake Portable Pipe Camera Offers Great Quality-Price Ratio and Intuitive Operation in Various Inspection Settings.
Medit Inc, one of the biggest North American on-line suppliers of visual imaging equipment is pleased to announce a new product available for purchase online – versatile SeaSnake Inspection System. 
The SeaSnake is an affordable inspection camera for operators having to explore remote areas, which combines great navigation, viewing and documenting capabilities with ease of use and portability. It comes with IP68 waterproof fiberglass probes of various lengths: 20 m (65.6'), 35 m (114.9'), 40 m (131.2') to explore distant areas that can be easily coiled on a light, portable reel with a non-slip handle. The control unit – the heart of any visual device – is safely contained in a water- and weather-proof case.
Featuring a Ø 23mm (1.0") detachable camera head, protected by an anti-scratch Sapphire lens, 12 high-output white LED lights, a flexible spring coiled joint for easy navigation through bends and obstacles, and 2 plastic camera centralizing skids, the SeaSnake provides clear, vivid, upright images of the problem area.
The control unit is equipped with an extra large 15" high-definition color TFT display, splash-proof soft keyboard to enter inspection comments right on site, and a microphone to record audio files. Inspection images can be transferred to a larger TV display through a video jack output
The SeaSnake is also available with a 512Hz frequency sonde integrated right behind the camera head, allowing to trace the camera with the help of a sonde locator.
The camera operates on a 12V 12AH battery that offers up to 4 hours of operation.
For the inspection camera of this price range, SeaSnake offers much more advanced characteristics that contribute to highly productive and convenient inspections.
You can learn more about this camera here:
http://www.fiberscope.net/seasnake-inspection-camera-system.html
About Medit Inc.
MEDIT Inc., located in North America, is one of the most reliable online suppliers of NDT equipment. The company has been successfully operating in medical, industrial, veterinary and consumer markets in over 30 countries for more than a decade and is fast becoming one of the largest players in the industry. Medit Inc is committed to offering the latest and optimal solutions for professionals in remote visual inspections. To see the full range of pipe inspection cameras follow here:
http://www.fiberscope.net/pipe-pipeline-sewer-drain-duct-snake-camera-inspection-push-cameras.html
.