Product News: Green & Clean
Portable Chiller utilizes EPA-compliant R410a refrigerant.
Press Release Summary: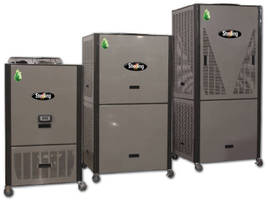 June 2, 2009 - Available in air- and water-cooled versions, GP Series features leaving coolant temperature range of 20-80°F and electronic modulating capacity control that maintains temperature to within 0.1°F. Electronic sensors monitor leaving/entering fluid temperatures, compressor suction/discharge pressure, condenser inlet temperature, pump pressure, and tank level. LCD shows operating status, set point, and to-process temperature on multiple screens. R410a refrigerant is chlorine-free.
Original Press Release
Environmentally Friendly Portable Chilling
Press release date: May 12, 2009
New Berlin, WI-Sterling is pleased and excited to introduce their first Green portable chilling line with the GP Series- first portable chiller in the industry to offer R410a refrigerant designed to meet the new regulatory requirements that will take effect in 2010.
R410a refrigerant is chlorine-free, which complies with the Environmental Protection Agency's newest, most stringent guidelines. The benefits to R410a include improved system efficiency as well as higher capacity rates.
An electronic modulating capacity control maintains leaving fluid temperature to within 0.1° F, and electronic sensors with digital readout include leaving and entering fluid temperatures, compressor suction pressure, compressor discharge pressure, condenser inlet temperature, superheat, sub-cool, pump pressure and tank level. Monitoring the conditions of the chiller provides "adaptive control", where the operator can adjust the operation of certain components with the chiller approaches an alarm condition in an effort to keep the chiller running with minimal to no downtime.
Optional web access to the controller will allow a Sterling or other qualified technician to diagnose alarms and see real time data without having to go directly to the site. The controller includes alarm history and capacity profile information.
A magnetic connection on the controller interface allows it to be mounted anywhere on the unit, allowing the processor to fit the chiller anywhere since there is no front or back to the unit. The controller's cable can also be extended to have the control mounted anywhere on the process line, bringing information to the processor for easy access to the chiller functions where and when they need it.
The easy-to-read LCD displays operating status, Set Point and To-Process temperature on a multiple screen, with a 20 character x 8 line display. All GP Series chillers, available in air-and water-cooled models, offer a leaving coolant temperature range of 20°F to 80°F (-7.5°C to 30°C).
Sterling provides a full line of material processing equipment and always offers full support from start-up to installation to 24-hour on-call service. For more information on the GP Series or any other Sterling product call 262-641-8610 or visit our web site at
www.sterlco.com
.