Product News: Mechanical Components & Assemblies
Plug-Seal Closures target beverage packaging applications.
Press Release Summary: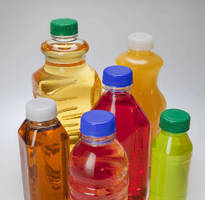 December 13, 2012 - Made of high-density polyethylene, GreenLyte™ 38 mm Plug-Seal Closures are suitable for single and multiserve, hot-fill, and aseptic beverage packaging applications. One-piece design eliminates need for liner, offering alternative to traditional 2-piece polypropylene closures typically used for juices, ready-to-drink teas, isotonics, enhanced waters, low-acid nutraceuticals, and high-end, aseptic-filled beverage products.
Portola Packaging, Inc. - Clifton Park, IL
Original Press Release
Portola Packaging Launches GreenLyte(TM) Plug-Seal Closure Line for Hot-Fill, Aseptic Beverage Packaging Applications
Press release date: December 11, 2012
Naperville, Ill. —Portola Packaging, Inc. is introducing GreenLyte™, a new line of plug-seal, high-density polyethylene (HDPE) 38 mm closures for single and multiserve, hot-fill and aseptic beverage packaging applications. 

GreenLyte™ one-piece closures represent a cost-effective, performance-driven alternative to traditional two-piece (closure plus liner) polypropylene (PP) types typically used for juices, ready-to-drink teas, isotonics, enhanced waters, low-acid nutraceuticals, and high-end, aseptic-filled beverage products.

"Our internal tests show that GreenLyte™ closures equal or exceed performance attributes offered by traditional two-piece closures. Additionally, the one-piece plug design reduces costs for brand owners due to shell lightweighting, liner elimination and material choice. We believe that this launch will be of significant interest for beverage brand owners looking for ways maintain or improve performance, while reducing costs," said Roy Robinson, vice president of business development, Portola Packaging. 

Because the GreenLyte™ line is made from high-density polyethylene, resin is less expensive than pricing volatility-prone polypropylene, which is the material from which most two-piece closures are made. 

"Two-piece closures have also been known to be difficult for consumers to open.  The thermoplastic elastomer (TPE) liner material tends to drag across the top of the finish requiring a significant amount of torque to access the contents.  Because the GreenLyte's plug construction eliminates the need for a liner, opening issues no longer exist," said Robinson.

GreenLyte™ plug-seal closures also offer multiple production line efficiencies. Unlike two-piece closures which usually require that the TPE liner be steamed in order to achieve proper application, this step is not necessary with Portola's linerless GreenLyte™ line. Additionally, the seal design and low coefficient of friction facilitates application over a wide range of capper settings.

"In addition to the cost, production and performance benefits, the GreenLyte™ launch provides an ideal conversion opportunity for those hot-fill beverage products still using 43mm finishes. Instead of converting from a 43mm two-piece to a traditional 38 mm two-piece closure, they can now go straight into a 38mm one piece plug closure improving their cost and environmental profile even further," Robinson explained. 

Portola Packaging is one of the first North American manufacturers to commercially produce linerless closures that can meet the rigorous demands of hot-fill, extended shelf life and aseptic applications.

About Portola Packaging
Portola Packaging, Inc. is a leading manufacturer of stock and custom tamper-evident plastic closures and containers for dairy, juice and other food segments.  The company is known for its superior product integrity, technical capability, global manufacturing footprint and speed-to-market.   For more info: www.portpack.com.

For sales inquiries:
Portola Packaging
Phone: +1 877-801-9169 x1
Email:  inquiries@portpack.com
www.portpack.com