Plasma Cutting Machine has rigid, space-conscious design.
Press Release Summary: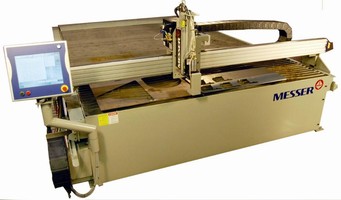 November 8, 2007 - Offered with multiple plasma torch options, EdgeMax features unitized steel table/frame, full capture bearing assemblies, and low-mass aluminum beam driven by dual brushless ac motors. Global S CNC control with Windows® OS, also included, facilitates machine operation for any level of operator. The basic models available are H, for HVAC, blowpipe, and OEM shops; G, for general fabrication shops; and P, for precision plasma cutting.
Messer Cutting Systems, Inc. - Menomonee Falls, WI
Original Press Release
MG Systems New Edgemax Offers Versatility and Value with a Smaller Footprint
Press release date: November 5, 2007
MENOMONEE FALLS, WI, U.S.A.

MG Systems and Welding will debut its new cutting machine at the Fabtech Trade Show in Chicago, Nov. 11-14, 2007. Visit Booth 5005 to view the EdgeMax, which offers rugged unitized construction, multiple plasma torch options, and many other choices to improve productivity.

The new EdgeMax takes up less space while retaining the well-known quality of its larger cousin the MetalMaster Plus. This unitized plasma based machine enhances MG's Edge series which includes the gantry style EdgeMate and EdgeMaster plasma and oxyfuel cutting systems. The EdgeMax is suited to various fabrication markets for HVAC, general fabrication and precision plasma cutting with three basic models, the H, G and P.

The H is designed for the HVAC, blowpipe, and OEM shops. While the G is for general fabrication shops and the P is for precision plasma only. Each EdgeMax model sports a rugged unitized steel table/frame, full capture bearing assemblies and a low-mass aluminum beam driven by dual brushless AC motors. This provides fast acceleration, precise motion and very stable cutting. With all of these models, plus options, the EdgeMax can be tailored to a shop's specific needs.

The best part of the EdgeMax's unitized design is installation. It's easy and quick. The exhaust table, frame, and Global S control arrive on a truck ready to go. Move it into place, level it, hook it up to gases and start cutting.

With the Global S CNC control, novice operators will become experts. The user-friendly controls with the familiar Windows® operating system will make anyone a master of the machine. The Global S control is specifically engineered by MG to maximize the machine's performance.

MG Systems also provides excellent service, training and preventative maintenance programs with all of its machines. With the push of a button on the Global Control display, MG's Virtual Service team can assist new operators via the Internet. It will pay for itself in the first few weeks by quickly providing guidance. Virtual Service also offers troubleshooting and software upgrades. The Global Control, with Virtual Service, will grow with regular upgrades to meet the changing demands of the cutting industry. MG also has trained professional service people should the need arise.

The new EdgeMax will be a welcome addition for its ease of operation and the dramatic improvement to a shop's productivity. It's a very rugged machine at an affordable price.

MG Systems and Welding, Inc. is known as the premier manufacturer of thermal cutting machines, using advanced plasma, laser, and oxyfuel cutting tools to cut shapes from metals. A full range of equipment is provided by MG Systems, with sales and service offices and dealers/distributors located throughout North America. MG Systems equipment is used in all types of manufacturing activities, including heavy-duty equipment manufacturers, metal service centers, shipyards, job shops and fabricators.

Visit the MG Systems Web site to see MG Systems equipment or contact MG Systems and Welding, Inc. to learn how MG Systems can assist you with your plate-processing needs. Phone 262-255-5520 or e-mail sales@messer-mg.com today.

Contact Information:

MG Systems and Welding, Inc. N141 W9427 Fountain Blvd. Menomonee Falls, WI 53051

p: 262-255-5520 f: 262-255-5170 sales@messer-mg.com