Product News: Laboratory and Research Supplies & Equipment
Plant Cell Extraction System requires minimal energy.
Press Release Summary: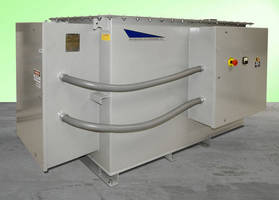 November 27, 2012 - Comprised of high-voltage pulse modulator, power supply, and treatment chamber, PowerMod™ PEF (pulsed electric field) System extracts intra-cellular materials from biomass that is pumped in slurry solid-state system. Featuring chemical-free, non-thermal process, system applies 1–40 kV/cm pulses for 2–20 µsec to break cell membranes and release intracellular materials to surrounding solution. Capable of up to 40 kl/hr throughput, system is 4 ft tall and offers pushbutton operation.

Diversified Technologies, Inc. - Bedford, MA
Original Press Release
PEF Plant Cell Extraction Requires Less Energy than Cooking
Press release date: November 14, 2012
A new cost-effective, low-energy PEF (pulsed electric field) process for the extraction of intracellular materials from algae and other vegetable or organic matter for bio-refining and wastewater pre-digestion has been introduced by Diversified Technologies, Inc. of Bedford, Massachusetts.

Diversified Technologies' PowerMod™ PEF System for the extraction of intra- cellular materials from a biomass pumped in slurry features a chemical-free, non-thermal process using less energy than cooking.  Applying 1 to 40 kV/cm high voltage pulses for 2 to 20 microseconds, this solid-state system breaks cell membranes and releases intracellular materials to the surrounding solution at about 10% of the cost of a thermal process, claims the firm.

Consisting of a high voltage pulse modulator, power supply, and treatment chamber, Diversified Technologies' PowerMod™ PEF System is capable of up to 40 kl/hour throughput.  Providing simple, push-button operation, this compact unit is 4 ft. tall and requires low maintenance. Applications include any biomass in slurry or other pumpable liquid.

Diversified Technologies' PowerMod™ PEF System for plant cell extraction is priced from $500,000.00, depending upon configuration.

For more information contact:
Diversified Technologies, Inc.
Michael A. Kempkes, VP of Marketing
35 Wiggins Ave.
Bedford, MA 01730-2345
(781) 275-9444 x211  FAX (781) 275-6081
e-mail: kempkes@divtecs.com
www.divtecs.com