Product News: Test & Measuring Instruments
Pipe Inspection System features 7 mm camera head.
Press Release Summary: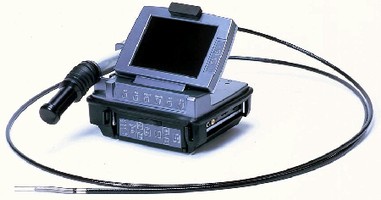 December 11, 2006 - Designed for internal inspection of drainpipes, laterals, and mainlines, Model AS107B consists of portable camera control unit, 1/6 in. CCD camera head, 16.4 ft flexible cable, 5.6 in. TFT LCD screen, halogen lamp lighting, and choice of 80 min battery operation or 12 Vdc power source. By manipulating joystick, plumber can control viewing angle in 4 directions within pipe. System features inspection size range of 8-25 mm and is rated watertight/waterproof for submerged applications.
Original Press Release
New Pipe Inspection System Features 7mm Camera Head For Greater Access
Press release date: December 5, 2006
IRVINE, CA, December 5, 2006 - Toshiba Teli America, Inc., the North American subsidiary of Toshiba Teli Corporation, offers its AS107B camera system designed for the internal inspection of drainpipes, laterals and mainlines. It is especially effective in small pipes and conduit where its 7mm (diameter) camera head with built-in illumination affords it greater access than traditional models. The camera's inspection size range is 8mm-25mm, and it is rated watertight/waterproof (IP67) for submerged applications. Ideal for commercial and residential plumbing contractors, the AS107B is an integrated, self-contained solution consisting of a portable, lightweight camera control unit, 1/6-inch CCD (400K pixels) camera head, a flexible 16.4-foot cable that negotiates tight turns with ease, a bright 5.6-inch TFT-LCD screen, the choice of either 80-minute battery operation or DC+12V power source, and Halogen lamp lighting to diagnose problems faster. By manipulating the mechanical joystick, a plumber can control the viewing angle in four directions within a pipe. LCD images are enhanced with the image-reversing function (0°/180°) to avoid upside-down viewing, as well as with the built-in electronic zoom, electronic lighting control, long-term exposure, and automatic gain control. The AS107B has video output for recording video onto a standard VCR or other device. It is immediately available. For more information, please call 1-949-770-TELI (8354). Or visit
www.toshiba-teli.com
. Toshiba Teli America, Inc. is located at 33 Hammond, Irvine, California, 92618. About Toshiba Teli Corporation Toshiba Teli America, Inc. is the North American subsidiary of Toshiba Teli Corporation, a world-leading manufacturer of CCD and CMOS cameras. Toshiba Teli Corporation has 500 employees and has a primary operation in Hino-City, Tokyo, and sales offices in Tokyo, Kobe, Nagoya, Fukuoka and Sapporo. In addition to cameras, Toshiba Teli Corporation manufacturers a wide range of equipment, including surveillance camera systems including DVR recorders, LCD inspection equipment, multi-value image measurement and manufacturing equipment, and RF amplifiers. ©2006 Toshiba Teli Corporation. All rights reserved. All products and names mentioned are the property of their respective owners. While Toshiba Teli Corporation has made every effort at the time of publication to ensure the accuracy of the information provided herein, product specifications, configurations, prices, system/component/options availability are all subject to change without notice.