Pipe-Clamped Temperature Sensor has non-intrusive design.
Press Release Summary: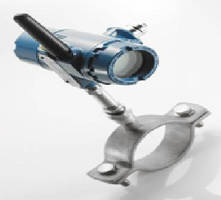 November 12, 2012 - Built to hold transmitter in its assembly, Rosemount® 0085 allows data capture in applications where intrusive measurements are not possible due to excessive stress placed on sensors with thermowells. Design with spring-loaded sensor and conductive flat nickel or silver sensor tip is optimized for sensor-pipe contact and heat transfer. With 2-bolt design that facilitates installation, sensor provides process manufacturers with enhanced visibility across their operation.
Rosemount Nuclear Instruments Inc. - Chanhassen, MN
Original Press Release
Emerson Introduces Non-Intrusive Pipe Clamp Sensor
Press release date: October 25, 2012
The Rosemount® 0085 non-intrusive Pipe Clamp Sensor provides a simple, fast solution for adding temperature measurements and increased process visibility in areas where intrusive sensors are not possible

CHANHASSEN, MINN – Emerson Process Management announces the release of its Rosemount® 0085 non-intrusive Pipe Clamp Sensor, a simple, fast solution for adding reliable temperature measurements and increased process visibility.

Plant operators need accurate temperature measurements that provide critical insight into their operation. This innovative temperature measurement solution allows efficient data capture in applications where intrusive measurements are not possible due to excessive stress placed on sensors with thermowells. The Rosemount 0085 non-intrusive Pipe Clamp Sensor is optimized for ideal sensor-pipe contact and heat transfer, with a spring-loaded sensor and a highly conductive flat nickel or silver sensor tip. Its robust design was built to hold a transmitter in its assembly, and when paired with the Rosemount 648 wireless transmitter, the sensor gives operators immediate access to reliable temperature measurements with no process intrusion.

Process manufacturers with the 0085 non-intrusive Pipe Clamp Sensor will have enhanced visibility across their operation, and be better positioned to resolve issues proactively, improve operations, and meet quality and production targets while lowering costs.  The Pipe Clamp Sensor is easy to configure and maintain, and its simple two-bolt design makes it easy to install.

For over 50 years Emerson's innovative Rosemount temperature portfolio has provided reliable temperature measurement to the process industry. For more information on the Rosemount® 0085 or other Rosemount temperature devices, visit http://www.rosemount.com and http://www.rosemount.com/pipeclamp.

About Emerson Process Management
Emerson Process Management (http://www.emersonprocess.com), an Emerson business, is a leader in helping businesses automate their production, processing and distribution in the chemical, oil and gas, refining, pulp and paper, power, water and wastewater treatment, mining and metals, food and beverage, life sciences and other industries. The company combines superior products and technology with industry-specific engineering, consulting, project management and maintenance services. Its brands include PlantWeb™, Syncade™, DeltaV™, Fisher®, Micro Motion®, Rosemount®, Daniel™, Ovation™, and AMS Suite.

About Emerson
Emerson (NYSE: EMR), based in St. Louis, Missouri (USA), is a global leader in bringing technology and engineering together to provide innovative solutions for customers in industrial, commercial, and consumer markets around the world.  The company is comprised of five business segments: Process Management, Industrial Automation, Network Power, Climate Technologies, and Commercial Residential Solutions.  Sales in fiscal 2011 were $24.2 billion.  For more information, visit http://www.Emerson.com.

CONTACTS:
Renee Munro, Emerson Process Management
1 (952) 949-7263, Renee.Munro@Emerson.com