Pick to Light System suits order fulfillment operations.
Press Release Summary: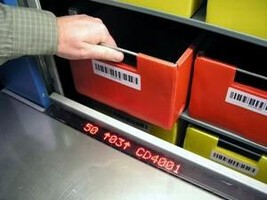 May 9, 2007 - Designed for use within Vertical Carousels and Shuttle VLMs, Transactional Information Center (TIC) Lights can display any information to meet picking requirements such as lot number or part description all in one location. It provides real-time information directly to operator for accurate picking. Display strip, imbedded in front of pick window, indicates exact quantity and location of item to be picked for each order.
Original Press Release
Remstar's New Transaction Information Center Lights Designed to Increase Productivity and Accuracy
Press release date: April 14, 2007
Remstar's new Transactional Information Center (TIC) Lights improve picking accuracy and throughput in high volume order fulfillment operations. TIC Lights provide real-time information directly to the operator for easy, accurate picking. The Remstar TIC Lights are modular information centers designed for use within Vertical Carousels and Shuttle VLMs. A display strip imbedded in the front of the pick window indicates the exact quantity and location of the item to be picked for each order. The result is improved throughput speeds and order accuracy. Traditional position indicator systems place a dot in front of the pick point and typically redirect the operator to an overhead or side-mounted display for further information. Having information in multiple places can slow the picking process and create error-prone pick cycles. Remstar's new TIC lights pinpoint the exact location of the pick for the operator displaying the quantity and pick location. Remstar's TIC lights can display any information to meet picking requirements, such as lot number or part description all in one location. The TIC Lights work by interfacing a host computer with FastPic Systems Software. The interface module handles all information between the TIC Lights and the company's host application software. Orders that are sent through a company's host computer are received at the equipment and displayed in easy to read command lines that are positioned in front of the pick window. Remstar, a company of the Kardex AG Remstar International (KRI) Group of Zurich, Switzerland, is a leading provider of automated storage and retrieval systems for manufacturing, distribution and warehousing applications. For information about the Remstar QuickPick family of pick-to-light products, call 800-639-5805 or visit the Remstar web site at
www.Remstar.com