Product News: Sensors Monitors & Transducers
Photoelectric Sensor detects irregular shaped objects.
Press Release Summary: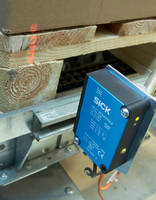 August 27, 2010 - Suited for leading and continuous edge detection of multi-height objects, pallets, and containers with holes/gaps, model WL27-3 Reflex Array photoelectric sensor features 50 mm detection height and detects any object that is 12 mm or larger. High resolution version offers Minimum Detectable Object (MDO) resolution down to 5 mm with 24 mm detection height. Unit is also suited for use in products with tapered edges (totes), bagged product, warped boards, and packaged products.
Original Press Release
SICK Launches Low-cost Array Sensor
Press release date: August 19, 2010
WL27-3 Reflex Array provides reliable leading and continuous edge detection of irregularly shaped objects, pallets and multi-height objects

Minneapolis, Minn., - SICK (www.sickusa.com), one of the world's leading manufacturers of sensors, safety systems, machine vision, and automatic identification products for factory and logistics automation, today announced the launch of the WL27-3 Reflex Array photoelectric sensor for reliable leading edge detection of irregular shaped objects. Any object 12 mm or larger is detected with the Reflex Array's 50 mm detection height, regardless of object properties or position within the array - including clear materials.

The WL27-3 Reflex Array provides low-cost area detection in a standard sensor platform. Operating in a "reflex" (retro-reflective) mode results in only having to mount and power a single device, reducing costs. Further, an intuitive alignment/teach procedure quickly ensures the device is operating under ideal conditions with the reflector. A high resolution version offers a Minimum Detectable Object (MDO) resolution down to 5 mm with 24 mm detection height.

Applications include leading edge detection of irregularly shaped objects, such as products with tapered edges (totes), bagged product, warped boards, and packaged product. This also includes continuous edge detection of multi-height objects, pallets and containers with holes/gaps. With these applications, the reflex array can oftentimes displace the traditional approach of small light grids or stacked photoelectric sensors.

About SICK

SICK is one of the world's leading manufacturers of sensors, safety systems and automatic identification products for industrial applications. With nearly 450 patents, SICK continues to lead the industry in new product innovations. The diversity of its product line allows SICK to offer solutions at every phase of production in the logistics, automotive, packaging, electronics, food and beverage, and material handling markets. SICK was founded in 1946 and has operations or representation in 65 countries worldwide.

www.sickusa.com