Product News: Welding Equipment & Supplies
Oxy-Fuel Torch offers ergonomics and clearer cutting path view.
Press Release Summary: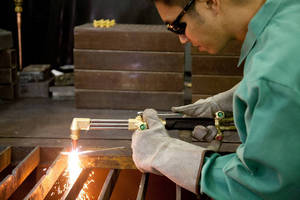 April 10, 2013 - Comprised of 2-piece, medium- and heavy-duty models, 400 Series features color-coded and labeled oxygen and fuel valves. Handle uses engineered zinc-aluminum alloy and resists deformation, while cutting attachment with three-tube design optimizes line-of-sight visibility. Tube design supports gas flow rate requirements for tip sizes 000–6, and universal mixer design lets operators use one torch for all fuels by selecting correct tips/attachments.
Original Press Release
Operator Focused: New Victor® 400 Series Oxy-Fuel Torch Offers Better Ergonomics, Clearer View of Cutting Path and Easier Use
Press release date: April 1, 2013
End-user-driven features include new contoured handle, three-tube cutting attachment design and color-coded and labeled valves knobs for clarity and enhanced safety. Now featured as part of Medalist® cutting and heating outfits.
ST. LOUIS – Victor®, a Victor Technologies™ brand, has launched its new 400 Series of oxy-fuel torches to meet the needs of a changing North American workforce and end-users globally. The 400 series is a two-piece torch that incorporates innovative handle and cutting attachment designs that offer better ergonomics, a clearer view of the cutting path, visual cues for easier use and enhanced safety.
The new torch is available in medium- and heavy-duty models and also sold as part of the Medalist® 250 and Medalist 350 outfits. Outfits include the torch handle, cutting attachment, welding tip, G Series regulators and hoses.
New Design
The 400 Series features a patented contoured handle whose size and shape fits naturally in most operators' hands. The handle uses an engineered zinc-aluminum alloy called Zamak that has three times its tensile strength of brass, so it better resists deformation. The handle is lighter than brass, yet it balances naturally when hoses and attachments are connected.
To simplify use, Victor color-coded and labeled the oxygen and fuel valves for instant identification and easier operation by indicating directions for open and closed valve positions.
"Until now, there was no way for an inexperienced worker to effectively and intuitively identify gas valves," says John Henderson, Group Brand Manager, Victor Technologies. "The 400 Series torch provides operators with the visual acuity necessary for safe and effective oxy-fuel cutting, even if English isn't their first language."
Henderson notes that design changes to simplify use help companies cope with the retirement of skilled operators and need to hire younger, less-skilled workers or workers who speak English as a second language. The durability of the torch handle also improves longevity in situations where tools receive rough treatment, a feature specifically requested by the supervisors interviewed during product development.
The 400 Series is compatible with current 300 series consumables and accessories and meets or exceeds performance and durability expectations of a Victor torch, the industry's leading brand. See this video as Victor's director of engineering explains the new innovations.
Better Cutting Visibility
To simplify use and increase precision, the 400 Series cutting attachment provides excellent line-of-sight visibility. Victor accomplished this by departing from its traditional tube-in-tube design to a sleeker three-tube design (oxy-fuel cutting requires three tubes, one each for fuel gas, pre-heat oxygen and cutting oxygen).
"Our new tube design optimizes cutting area visibility while providing strength and supporting gas flow rate requirements for tip sizes 000 through 6," says Henderson. The 400 Series uses a universal mixer design and mixes the gases in the head of the torch. Like all Victor torches, it enables operators to use one torch for all fuels (acetylene, propylene, propane, etc.) simply by selecting the correct tips or attachments.
"Everyone familiar with the cutting performance of a Victor torch will recognize the superior performance of the new 400 Series cutting attachments," notes Henderson. "They'll also appreciate how the oxygen cutting lever is positioned relative to the torch handle for increased comfort."
G Series Regulators
When sold as part of the Medalist 250 and 350 outfits, Victor's new G Series regulator accompanies the 400 Series torch. G Series regulators use a combination of colors on the gauge face to provide clarity for reading needle position, while a scale and red tick mark indicate actual service pressure of the regulator.  The G Series also uses ergonomic color-coded knobs to indicate gas type and for better comfort when adjusting gas pressure.
About Victor
Victor® is a world leader in cutting, welding and gas control technology. Founded in 1913, Victor has continued to design and improve products with the end-user in mind – and these practices have made the Victor name synonymous with reliability and quality. Victor products include torches, handles, attachments, tips, consumables and complete kits for oxy-acetylene and oxy-fuel cutting, heating and welding. Victor gas control equipment includes regulators, flow meters, gauges and pipeline regulation devices. Insist on genuine Victor equipment.
About Victor Technologies
Headquartered in St. Louis, Missouri, Victor Technologies provides superior solutions for cutting, gas control and specialty welding equipment under brand names that include Victor®, Victor®Thermal Dynamics®, Victor®Arcair®, Victor®TurboTorch®, Tweco®, Thermal Arc®, Stoody®, Firepower® and Cigweld®. For more information about Victor Technologies, its products and services, visit the company's web site at
www.victortechnologies.com
.
Contact:
Bill Wehrman, Communications Manager
Victor Technologies
Phone: 636-728-3057   
Email:
media@victortechnologies.com
Alternate Contact:
Chuck Schroeder (PR Representative)
Office: 262-240-9790; Mobile: 414-467-3287
Email:
chucks@imipr.com