Product News: Sensors Monitors & Transducers
Overfill Detectors are compatible with existing systems.
Press Release Summary: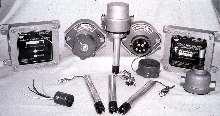 January 3, 2003 - Flotech fuel tanker overfill detection system incorporates API-compatible 2 and 5 wire optic probes with double elastomer design to seal and secure optic prism tip. Complete system includes sensors, probes, sockets, and on-board monitors. Test kits are available for thermistor and optic systems. All components are drop-in compatible for installation in other API overfill systems.
Original Press Release
Flotech Petroleum Tanker Overfill Detection Systems from Dixon Bayco
Press release date: December 19, 2002
Chestertown, Md., December 19, 2002 - Announcing the availability of Flotech overfill detection systems, the new state of the art in fuel tanker overfill detection engineering, from Dixon Bayco.
The newly introduced FloTech line incorporates API-compatible two and five wire Optic probes. These trouble-free probes feature a double elastomer design, which seals and secures the sensitive optic prism tip. Because the sensors do not employ epoxy-sealed prisms, they are free from malfunction due to epoxy/prism interface separation.
Optic sensors, widely used throughout North America, are prone to failure as well as difficult to troubleshoot. FloTech's line of optic sensors provides more reliable service. All systems are backed by FloTech's troubleshooting and installation schools ensuring long reliable service on your petroleum cargo tank.
"When we looked at improving overfill detection systems, we started by listening to customers to find out where existing products fell short," said Bob Koeninger, president of Dixon Bayco. "We also looked closely at existing system designs, service environments and maintenance factors. The result is a completely new line of sensors, probes, sockets and on-board monitors that combine to make complete systems that perform demonstrably better while saving customers time and money," he reported. In addition to accessory sockets, cable and glands, test kits are also available for both the thermistor and optic systems. All components are designed for drop-in compatibility, making them easy to install - even in other existing API overfill systems.
FloTech overfill detection systems are stocked at supply locations throughout the United States and Canada, with 24-hour delivery available on most products. All products are covered by a two-year limited warranty. For more information on FloTech overfill detection systems from Dixon Bayco, contact (800) 355-1991 or visit
www.baycoind.com
.
FloTech overfill detection systems are marketed by Dixon Bayco, Ltd. in Canada and Dixon Bayco USA, leading suppliers of petroleum tanker overfill, bottom loading and vapor recovery systems. Dixon Bayco is a Dixon company. Serving industry since 1916, through its divisions and affiliated companies Dixon has become recognized as the premier worldwide manufacturer and supplier of hose fittings and accessories, spanning a wide range of industrial uses.