Product News: Optics & Photonics
Optical Laser Source offers optional modulation frequencies.
Press Release Summary: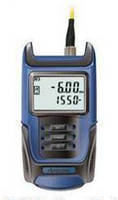 May 31, 2012 - Used to simulate conditions in manufacture, testing, and maintenance of passive optical components, model C0220005 offers stable output power of ±0.03 dB/15 min and ±0.05 dB/8 hr. Tests employ automatic power and temperature control techniques, and various FC, ST, and SC adapters are available. Suited for field work, unit offers switchable working wavelengths between 1,310 and 1,550 nm (±20 nm) as well as CW, 270 Hz, 1 kHz, and 2 kHz modulation frequencies.
Original Press Release
Compact Optical Laser Source with Modulation Frequencies
Press release date: May 30, 2012
Toronto, Canada - GAO Fiber Optics (www.GAOFiberOptics.com) has announced the release of its compact optical laser source, which is ideal for simulating various conditions in the manufacture, testing and maintenance of passive optical components. Featuring a large LCD screen, sleek design and easy operation, this laser source is ideally suited for field work. This durable and compact optical laser source, model C0220005, features easy operation, high sensitivity and reliability and low battery alarm. It boasts highly accurate measurements and is compatible with other optical instruments. This laser source conducts efficient tests relying on its utilization of automatic power control (APC) and automatic temperature control (ATC) techniques. This laser source is available for optical transmission systems, attenuation and fibers testing. It has a highly stable output power of 0.03dB/15mins and 0.05dB/8h. FC, ST and SC adapters are available. The optical laser source offers switchable working wavelengths between 1310 nm and 1550 nm (20 nm) together with optional modulation frequencies including CW, 270Hz, 1 kHz and 2 kHz to meet various requirements. It operates continuously for five hours on a single charge. This optical laser source belongs to GAO's family of Light Source which contains seven different products such as Portable Fiber Optic Visual Light Source which provides an economic and efficient solution for measuring optical loss in fiber optic cable in the testing and maintenance of telecom, CATV and other fiber optic applications and Fiber Optic Multimeter which integrates both an optical power meter module and an optical light source module in one unit and performs closed-loop tests by using both modules. GAO has a series of Fiber Optic Instruments that can satisfy consumers' demands. About GAO Fiber Optics GAO Fiber Optics (www.GAOFiberOptics.com), a member company of GAO Group, is professionally engaged in R&D and production of fiber optical communication products.