Product News: Chemical Processing & Waste Management
Oil-Free Vacuum Systems feature intelligent control.
Press Release Summary: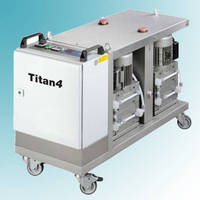 October 18, 2012 - Mounted on mobile base frame, chemical-resistant WelchNet Titan consists of microprocessor-controlled system of high-capacity PTFE diaphragm vacuum pumps for Multi-User Laboratory Installations. Pumps work individually or in tandem as required by laboratory vacuum demand, holding vacuum level even if individual pump needs maintenance. Respectively, Titan-4 and Titan-6 utilize 4 and 6 PTFE diaphragm pumps to provide vacuum on demand for up to 30 separate users.
Original Press Release
New WelchNet Titan Oil-Free Vacuum Systems
Press release date: October 11, 2012
Welch-Ilmvac has introduced the WelchNet Titan, a microprocessor controlled system of high capacity PTFE diaphragm vacuum pumps for Multi-User Laboratory Installations.

The pumps work individually or in tandem as the laboratory vacuum demand requires, holding vacuum level even if an individual pump needs maintenance.

Features include:
• Intelligent Vacuum Control
• Chemical Resistant
• Green technology
• Oil Free
• Energy Efficient
• Low Maintenance

The Titan is mounted on a mobile base frame which is easily positioned for adaptation to existing plumbing. Titan-4 and Titan-6 are systems utilizing 4 or 6 PTFE diaphragm pumps to provide efficient vacuum on demand for up to 30 separate users.

The individual pumps start up in tandem and are successively switched off as working vacuum pressure is attained. One or more pumps come on in response to vacuum demand, rotating usage to distribute pump wear and extend maintenance interval.

With manufacturing on three continents, global distribution, and an extensive service network, Welch-Ilmvac provides expert technical solutions and value-driven vacuum products for the global marketplace.

To learn more about Welch-Ilmvac, please visit www.welchvacuum.com.

WELCH-ILMVAC
5621 W. Howard Street
Niles, IL 60714 USA
Tel: 847-676-8800 - Fax: 847-677-8606
email: Welch-Ilmvac.us@gardnerdenver.com

Client Contact: Gregg Small, Manager, Marketing
email: gregg.small@gardnerdenver.com