Product News: Material Handling & Storage
Narrow Aisle Reach Trucks offer productivity enhancing options.
Press Release Summary: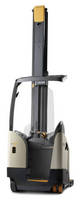 August 31, 2012 - Crown RM 6000 Series supports Xpress(TM) Lower technology option, which reduces time spent waiting for load to lower by increasing speeds to as much as 240 fpm. Design delivers 3 automatically controlled lower speed zones to ensure performance and safety. Quick Change Load Wheels option reduces time needed to replace load wheels and return truck to operational status. Load wheel changing system design lets load wheel assembly be swapped-out in aisle in 2.5 min.
Crown Equipment Corp. - New Bremen, OH
Original Press Release
Crown Equipment Introduces Innovative Options for RM 6000 Series to Help Fleet Managers Further Improve Productivity and Performance
Press release date: August 28, 2012
NEW BREMEN, Ohio - As warehouse and distribution center managers look to maximize efficiency and existing space, Crown Equipment Corporation, one of the world's largest materials handling companies, has added two optional truck features to its Crown RM 6000 Series of narrow aisle reach trucks. The innovative Xpress(TM) Lower technology and Quick Change Load Wheels are both designed to help managers increase productivity and performance gains. With lowering accounting for up to 25 percent of each cycle, Xpress Lower reduces cycle times by decreasing the time spent waiting for the load to lower on the Crown RM 6000. Technology inside the truck increases lowering speeds to an industry-leading pace of up to 240 fpm (feet per minute), without using any additional energy. The patent-pending design delivers three automatically controlled lower speed zones to ensure optimum performance and safety. Depending on the height of the truck and application, this can translate into a substantial increase in cycles completed. At customer sites where the lift truck has been installed, the Crown RM 6000 that can reach 505 inches has shown a 13 percent improvement in productivity, which can equate to saving an estimated 35 minutes per operator, per shift or more than $5,500 annually. Quick Change Load Wheels is a unique load wheel changing system that reduces the time it takes to replace load wheels and return the truck to operational status. The bolt-on outrigger tips are specially designed for a Quick Change cartridge to easily fit in. A tool is used to simply insert and remove the load wheel cartridge from the outrigger tip. The design allows the load wheel assembly to be swapped-out in the aisle, eliminating the need to move the truck to a maintenance area and waiting for an available technician to jack up the truck, replace the load wheels and bring it back into service. The result is a load wheel change that occurs in only two and half minutes, which can equate to a savings of more than 25 minutes compared to a standard load wheel replacement. Interstate Warehousing, a Tippmann Group company and one of the top 10 refrigerated warehouse companies in North America, currently uses Crown RM 6000 Series lift trucks in its facilities across the United Sates. Many of these lift trucks are equipped with the Xpress Lower technology. "The majority of the product we store in our warehouse is stored on 1,600 to 2,000 pound pallet loads. Before the Crown RM 6000, we didn't have the capacity to lift the majority of our product. This reach truck has allowed us to increase capacity in our warehouses, and given us more flexibility and versatility to better serve our customers," said Chuck Tippmann, president, the Tippmann Group. "The Crown RM 6000 has truly revolutionized the industry. The benefits to our operation have been tenfold." The Crown RM 6000 Series is the industry's first narrow aisle reach truck with a MonoLift® mast. It is also the industry's first pantograph reach truck that can reach 505 inches and deliver up to 1,000 pounds more capacity at height. It is equipped with forks that travel upward at an industry-leading pace of 160 feet per minute. The Crown RM 6000 offers a new level of flexibility regarding the way high-density warehouses and distribution centers are designed, saving customers millions of dollars in capital expense and supporting meaningful improvements in productivity. The Crown RM 6000 Series features a reach sense technology that provides a soft start and stop when using the pantograph reach mechanism, standard AC motors, regenerative brakes and lowering system, and electronic steering. These features, combined with the option to use a larger battery, position the Crown RM 6000 for energy savings and run time improvements of 25 percent or more depending on the application. The Crown RM 6000 has been qualified as part of Crown's fuel cell qualification program for its line of electric forklifts. About Crown Equipment Corporation Crown is one of the world's largest material handling companies. Crown's award-winning line of lift trucks maintains a reputation for advanced product design, engineering and integrated manufacturing processes. Offering a broad range of forklifts, as well as automation and fleet management technologies, Crown seeks to provide customers with forward thinking and innovative products designed to improve performance and lower operating costs. Headquartered in New Bremen, Ohio, Crown offers products that are defining the future of warehouse logistics throughout the world. For more information, visit crown.com. tony castillo Senior Counselor 4380 Buckeye Lane, Suite 210 Beavercreek, OH 45440 main: 937.560.2840 direct: 937.560.2858 cell: 937.344.1937 fax: 937.560.2841
www.fahlgrenmortine.com