Product News: Materials & Material Processing
Multilayer Ferrite Chip Beads minimize noise in less space.
Press Release Summary: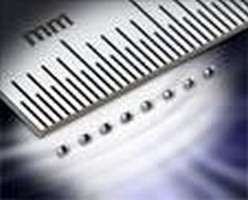 October 10, 2008 - Supplied in EIA 0201 case size (0.6 x 0.3 x 0.3 mm), BKP0603 series multilayer ferrite chip beads are designed for reducing power circuit noise in portable, battery-powered electronic equipment. Models BKP0603 HS220 and BKP0603 HS330, respectively, offer electrical performance characteristics that include 22 and 33 ohm impedance @ 100 MHz as well as 0.065 and 0.070 ohm RDC values. Maximum rated current for both models is 1.0 A.
Taiyo Yuden (USA), Inc. - Schaumburg, IL
Original Press Release
Taiyo Yuden's New EIA-0201-Size Multilayer Ferrite Chip Beads Offer 64% Smaller Surface Area Vs. Previous Devices
Press release date: September 30, 2008
Leading-edge material science, multilayering and printing technologies result in optimal combination of size & performance for reducing noise in mobile phone power circuits SCHAUMBURG, Ill. - September 30, 2008 - TAIYO YUDEN (U.S.A.) INC. announces the BKP0603 series of 0.6 x 0.3 x 0.3mm multilayer ferrite chip beads for reducing power circuit noise in cell phones and other portable battery-powered electronic equipment. The models now available in the BKP0603 series offer a 64% smaller device footprint (78% smaller by volume) compared to the company's previous BKP1005 series ferrite chip beads at 1.0 x 0.5 x 0.5mm. For power circuit applications, the BKP0603 offers the optimal combination of size, cost and performance. The global cell phone market's continuing trend toward smaller, more feature-rich products is driving the need for more IC chips, each with its own power supply circuit to optimize power use and reduce consumption. Because more power supply circuits mean a larger consumer product, smaller components in the DC-DC converters and power supply circuits are needed to minimize end device size as much as possible. However reducing the size of the ferrite chip beads also reduces their rated current and DC resistance (RDC) performance, thus minimizing their ability to handle the higher current levels demanded by the application. Answering this challenge, TAIYO YUDEN's leading-edge material science capability, coupled with innovative multilayering and printing techniques, resulted in the development of the BKP0603 series of ferrite chip beads in EIA 0201 case size (0.6 x 0.3 x 0.3mm), but with the electrical performance of much larger components. Now being fabricated in production volume quantities, the BKP0603 series presently includes the following part numbers:
Ordering Code   Impedance (ohm) @ 100MHz   RDC (ohm)   Rated Current (A), Max BKP0603 HS220   22              0.065     1.0 BKP0603 HS330   33              0.070     1.0
For further information about the company's complete line-up of high-performance inductor and ferrite products, visit the company web site at
www.t-yuden.com
or call TAIYO YUDEN (U.S.A.) INC. Sample Price: $0.05 each Availability: Now being produced in volume quantities Delivery: 2 weeks ARO About TAIYO YUDEN: Now in its 58th year, Tokyo-based TAIYO YUDEN CO., LTD. is a worldwide manufacturer of surface-mount and leaded passive components, Bluetooth modules, CCFT inverters and recordable digital media. With approximately 50% of the worldwide market in high-frequency multilayer chip inductors used in cell phones, the company reports annual sales of US$2.06B. Worldwide, TAIYO YUDEN employs more than twenty thousand people. The company's North American affiliate, TAIYO YUDEN (U.S.A.) INC., operates sales and engineering offices in Chicago, IL, Raleigh, NC, Irving, TX, and in California at San Jose and San Diego. For further information, visit the company's website at:
www.t-yuden.com
. For Further Information, Editors Contact: Yaeko Minamikawa, Marketing Analyst TAIYO YUDEN (U.S.A.) INC. 1930 Thoreau Drive, Suite 190 Schaumburg, IL 60173 Voice: 847-925-0888 o Fax: 847-925-0899 E-mail: sales@t-yuden.com URL:
www.t-yuden.com
WelComm, Inc. Advertising o Public Relations 7975 Raytheon Rd, Suite 340 San Diego, CA 92111 Voice: 858-279-2100 o Fax: 858-279-5400 E-mail: mike@welcomm.com Contact: Mike Gerow, PR Director