Multi-Substrate Presses offer varying degrees of automation.
Press Release Summary: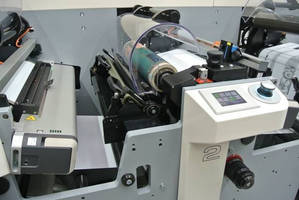 June 3, 2013 - Serving label, flexible packaging, and converting markets, EF multi-substrate presses include 3 versions designed to accommodate unique application requirements. Standard EF press offers automation package with iControl, Crisp.Dot, Gearless Tooling, Short Web, Multi Drive, and Job Memory. EF-APC adds to automation with print sleeve settings, slide-out ink drawers, and Dynamic Print Control. Additionally, EF-APC Advanced adds Automatic Print Control on print gap (substrate related).
Original Press Release
MPS Broadens the EF Multi-Substrate Press Line
Press release date: May 27, 2013
The EF press line is now available in three different versions to accommodate a range of market requirements.
DIDAM, The Netherlands – MPS today announced its broadened EF multi-substrate press line which is now available in three different versions to accommodate market demand and offer a solution for unique application requirements. With different demands for press solutions ranging from cost-efficient to advanced, fully-automated machinery, and respecting changing market demands, the new EF press offering will serve all segments of the label, flexible packaging and converting markets.
The standard EF press offers an automation package including Job Memory. From this standard configuration, two additional automation packages for the ultimate in print setting control can be configured to further increase the productivity of the EF press. The following three versions of the MPS EF multi-substrate press are now available:
1) EF
2) EF-APC
3) EF-APC Advanced
Built with unique MPS innovations including iControl, Crisp.Dot, Gearless Tooling, Short Web, Multi Drive and Job Memory, the standard EF provides a lower-cost solution with considerable automation capability. Job Memory memorizes all machine settings used for a specific job and with the user-friendly iControl system the press is easily controlled by the press operator.
From the standard EF design, the EF-APC version is enhanced with automation on the print sleeve settings. With the use of servo positioning technology, the print sleeves are loaded automatically on the print unit, while the APC (Automatic Print Control) option automatically sets the desired print pressure settings. The EF-APC version is also built with slide-out ink drawers and Dynamic Print Control to guarantee flawless and consistent print quality at all press speeds.
For further automation, the EF-APC Advanced version includes the EF-APC features in addition to Automatic Print Control on the print gap (substrate related). For initial jobs, material calibration memory is uploaded and recalled for repeat jobs. Print positional settings for plate sleeves and anilox rolls can also be stored and recalled. All desired print settings are achieved within seconds and waste quota is virtually negligible.
Eric Hoendervangers, MPS Commercial Director commented: '"Our motto is 'Technology with Respect'. With over 1,300 print units sold, the EF multi-substrate press is the most popular of the MPS press family. During its 15 years of existence the EF has continuously evolved in terms of press design, performance and press operation. For this next generation, we listened to feedback from our existing customers and thoroughly studied new markets. The solution we established moving forward enables our customers to choose the EF press version and configuration which best suits their market requirements without compromising reliability and print quality expected from an MPS press."
About MPS
MPS is the world's fastest growing manufacturer of narrow-web label and packaging UV-flexo presses. In 1999 MPS introduced the first fully rotary servo-driven press in the label industry. Since then MPS has installed over 2,000 fully servo-driven print stations, printing self-adhesive labels and mono-film packaging. The majority of MPS machines are installed in Europe, with Germany as the leading market, in addition to other global market installations including uthe US, Japan and recently in China.
Recognized as one of the leading innovators in the narrow-web printing market, MPS presses are well- known for their durability, effective return on investment, and delivering high quality print.
Technology with Respect.
More info:
www.mps4u.com