Product News: Optics & Photonics
Micromachining Laser delivers 400 fs pulse widths.
Press Release Summary: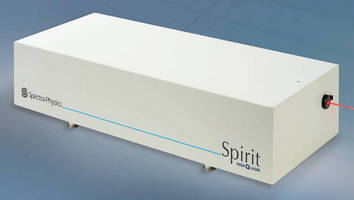 January 25, 2013 - Spirit™ 8 W industrial-grade laser features average power of greater than 8 W in IR at 1,040 nm, with second harmonic option for generating green femtosecond (fs) pulses. Able to be used in micromachining applications without producing unwanted heat damage to processed material, product delivers 400 fs pulse widths with pulse energies of greater than 40 µJ. Fully automated solution is adjustable via computer over range of repetition rates from single shot up to 1 MHz.
Original Press Release
Spectra-Physics® Unveils New High Power Femtosecond Laser
Press release date: January 23, 2013
• New industrial ultrafast laser ideal for femtosecond micromachining applications

Santa Clara, CA – Spectra-Physics®, a Newport Corporation brand, introduces Spirit™ 8 W, an industrial-grade high power femtosecond (fs) laser for micromachining applications. The new laser delivers high average power with short 400 fs pulses for fast and flexible femtosecond micromachining, without unwanted heat damage to the processed material. These features make the laser ideal for manufacturing medical devices, flat panel displays, and semiconductors.

"The new Spirit 8 W laser is a robust and flexible tool for demanding cold-machining applications that require high powers and energies for increased micromachining depth and speed, without any sacrifice to machining quality," said Herman Chui, senior director of product marketing for Spectra-Physics. "This compact laser is ideal for high precision manufacturing of devices such as catheters, biodegradable stents, and high-resolution organic LED displays."

The Spirit ultrafast laser provides high average power of >8 W in the infrared at 1040 nm with a second harmonic option for generating green femtosecond pulses. The laser delivers ultrashort 400 fs pulse widths with high pulse energies of >40 µJ and is adjustable via computer over a wide range of repetition rates from single shot up to 1 MHz. The highly reliable Spirit is fully automated and has excellent beam characteristics with diffraction-limited TEM00 mode.

The new Spirit 8 W laser will be featured at SPIE Photonics West, The Moscone Center, San Francisco, CA, February 5-7, 2013.  Please visit Newport's booth #1301 for a demonstration.  For more information, please visit: http://www.newport.com/Spirit.

About Newport Corporation
Newport Corporation is a leading global supplier of advanced-technology products and systems to customers in the scientific research, microelectronics manufacturing, aerospace and defense/security, life and health sciences and precision industrial manufacturing markets.

Newport's innovative solutions leverage its expertise in high-power semiconductor, solid-state and ultrafast lasers, photonics instrumentation, sub-micron positioning systems, vibration isolation, optical subsystems and precision automation to enhance the capabilities and productivity of its customers' manufacturing, engineering and research applications.  Newport
is part of the Standard & Poor's SmallCap 600 Index and the Russell 2000 Index.

Company Contacts:
Herman Chui
Sr. Director of Product Marketing
Tel: +1 408-980-6996
Email: herman.chui@newport.com

Media Contact:
Marlene D. Moore
Advertising • Marketing • Public Relations – for Advanced Technologies
818-708-1704 / Fax: 818-344-7179
Cell: 818-512-6090
marlene@smithmillermoore.com