Product News: Electronic Components & Devices
Metal Plate Resistors are supplied in 0402 package.
Press Release Summary: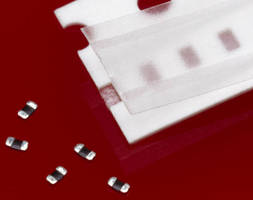 October 23, 2012 - Available with 2% or 5% resistance tolerance, TLR1E has power rating of 0.2 W, comes in 0.25 mm thick package, and features 10 mΩ resistance value with TCR of ±100 ppm/°C. Incorporated metal alloy lends to resistance to corrosion and heat, promoting use in telecommunications applications and such consumer electronics as handheld devices, computing devices, tablets, or computers.
Koa Speer Electronics, Inc. - Bradford, PA
Original Press Release
KOA Speer Introduces TLR1E, One of Industry's First 0402-Sized Metal Plate Resistors
Press release date: October 18, 2012
Bradford, PA - KOA Speer Electronics is pleased to introduce the TLR1E, one of the first metal plate resistors in a 0402 package on the market. TLR1E features a 10mΩ resistance value with a TCR of ±100ppm/°C.

Available in 2% or 5% resistance tolerance, the TLR1E incorporates metal alloy, offering superior corrosion and heat resistance. The new 0402 size also features an ultra-low height with a thickness of 0.25mm and a power rating of 0.2W.

Ideal for telecommunications and consumer electronics, the TLR1E is perfect for applications such as handheld devices, computing devices, tablets or computers. Prices start at $0.49/each, and have a lead time of 10-12 weeks. Samples are available upon request.

KOA Speer's TLR series metal plate current sense resistors offer high reliability and performance with TCR as low as +75ppm/°C and an ultra-low resistance range of 1mΩ - 20mΩ. Other power ratings include 0.5W, 1W & 2W in a ±1% tolerance. The TLR resistor is used for voltage division, pulse applications and current sensing.

About KOA Speer:
KOA Corporation, whose global presence includes corporate headquarters in Japan, and sales locations in the USA, Germany, China and Singapore, offers a wide range of products which include thick and thin film resistors, current sensing resistors and resistor arrays; thermal sensors, fuses and varistors; wire wound, multilayer, power and thin film inductors; LTCC's and modules. KOA Speer Electronics, an affiliate of KOA Corporation, has served the electronics industry since 1980.

For more information, contact:
Dawn McGriff
KOA Speer Electronics, Inc.
199 Bolivar Drive
Bradford, PA 16701
(P) 814-362-5536 ext. 266
(F) 814-362-8883

www.koaspeer.com

-or-

Tim Glass
Altman-Hall Associates
235 W. 7th Street
Erie, PA 16501
(P) 814-454-0158

www.altman-hall.com