Product News: Electrical Equipment & Systems
Medical-Grade 105 W AC/DC Power Adapter charges Lenovo ThinkPad.
Press Release Summary: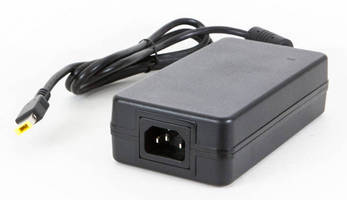 August 1, 2014 - Set at 20 V output and configured to charge Lenovo® ThinkPad® laptop computers, 5.76 x 2.96 x 1.54 in. TMP105-20-LNR comes with rectangular slim tip plug with signal pin and is approved to medical and ITE safety standards. Earth leakage current is <200 µA, and touch current is 100 µA max at 264 Vac, 63 Hz. With 0.98 active power factor, adapter operates at 90–264 Vac universal input and comes with IEC 320/C14 AC inlet and achieves active efficiency of up to 89%.
Tumbler Technologies, Inc. - Santa Clara, CA
Original Press Release
TRUMPower's 105W Medical Power Adapter with Rectangular Slim Tip Plug is Suitable for Charging Lenovo® ThinkPad® Used in Medical Applications
Press release date: July 1, 2014
Santa Clara, California – TRUMPower is proud to launch its 105W TMP105-20-LNR AC/DC medical grade power adapter, which is set at 20V output voltage and specifically configured to charge Lenovo® ThinkPad® laptop computers. The power adapter comes with a rectangular slim tip plug with a signal pin, which is compatible with a lot of Lenovo® ThinkPad® models such as Helix, T431s, Edge E531, T440s, X1 Carbon, etc.
The power adapter is approved to the latest medical and ITE safety standards, including the 3rd edition of EN 60601-1, UL 60601-1, and IEC 60601-1, and EN/UL/IEC 60950-1 2nd edition. The power supplies offer a low earth leakage current of less than 200µA and touch current of 100µA maximum at 264 VAC, 63 Hz.
With 0.98 active power factor, the TMP105-20-LNR operates at a 90 to 264 VAC universal input. The unit measures 5.76" (L) x 2.96" (W) x 1.54" (H) and comes equipped with the IEC 320/C14 AC inlet and a power-on LED indicator. Units come with the IEC320/C6 AC inlet or the IEC 320/C18 AC inlet is also available. TRUMPower also offers other connector options such as the big barrel "advanced" connector, with dimensions 7.5mm OD, 5.55mm ID, and a 0.8mm diameter signal pin, which is compatible with ThinkPad® models such as R60, R400, R500, T60, T400, T400s, T410s, T430, T500, T510, T520, W500, Z60m, Z60t, etc.
With an active efficiency of up to 89%, the power adapter is compliant with the CEC and Energy Star Level V standards. The unit is comprehensively protected against overvoltage and overcurrent conditions and deliver a reliable 150,000 hours minimum MTBF at full load at 25°C ambient per MIL-HDBK-217F.
The TMP105-20-LNR is competitively priced in OEM quantity. Units are available from stock to 10 weeks ARO.
For more details on the TMP105-20-LNR power adapter, please email to
sales@trumpower.com
.
About  TRUMPower
TRUMPower has been delivering excellent quality medical and commercial grade AC/DC switching power supplies and DC/DC converters since 1991. The company's medical grade power supplies range from 4W to 1200W in wall mount, desktop, open frame, and ATX PC form factors. TRUMPower can accommodate to OEM's needs, whether they are low volume or high volume power supplies, by providing prompt responses and cost-effective power solutions. As a result, it has gained a substantial number of satisfied customers over the years and continues to do so.
For more information on the company and its other products, visit
www.trumpower.com
or email us at
wsales@TRUMPower.com
Lenovo® and ThinkPad® are registered trademarks of Lenovo.