Machine Monitor helps protect processes from disruption.
Press Release Summary: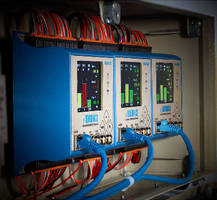 June 3, 2014 - Suited for small to medium industrial machinery, Model DN26 G3 monitors 2 channels of bearing vibration, shaft vibration, or shaft position and provides fully programmable signal conditioning. DIN rail mount unit also offers dedicated speed monitor channel, which can also be utilized as phase reference for harmonic analysis of vibration signals. Sensor interface is programmable to accept IEPE type accelerometers/velometers, proximity probes, and active/passive speed probes.
Original Press Release
Intelligent Protection for Smaller Critical Rotating Plant
Press release date: May 22, 2014
Continuous protection and monitoring is becoming an essential requirement for critical rotating plant across industry as part of the process of improving efficiencies, reducing energy consumption and eliminating downtime. Whether generating power, pumping essential fluids or driving process equipment, it is vital to monitor machinery dynamic behaviour and protect processes from the disruption and expense of unscheduled downtime.
Typically the higher cost of more sophisticated protection systems can be difficult to justify for smaller machinery operating on less critical applications, although the requirement for monitoring still needs to be addressed. The solution is cost-effective and compact machinery protection monitoring which is why condition monitoring specialist SENSONICS have developed their DN26 G3 protection monitor. The new DN26 G3 unit provides compact and cost-effective protection for smaller plant and equipment such as, pumps, fans, motors, centrifuges, turbines, or any item of small to medium industrial machinery.
The high-performance Din Rail mountable unit is capable of monitoring two channels of bearing vibration, shaft vibration, or shaft position and offers fully programmable signal conditioning with a range of measurement algorithms and sensor options. In addition the DN26 G3 offers a dedicated speed monitor channel which can also be utilised as a phase reference for harmonic analysis of the vibration signals. The unit is designed for optimum flexibility; as a universal module (single hardware platform) it is field upgradable and can be programmed for any of the measurement options detailed above. It is available with mains or +24Vdc power supply options.
The sensor interface is programmable to accept IEPE type accelerometers / velometers, proximity probes (API 670 standard), and active / passive speed probes.
All sensor signals are available via a buffered interface which provides the option of further detailed analysis if required. Three alarm relays are available as standard (expandable to up to seven relays via a digital interface), one dedicated to indicate module and sensor integrity, the other two relays are fully programmable across the alarm criteria selected. All three input channels measured values are available via a 4-20mA interface.
The unit is available with Ethernet communications as standard, permitting configuration either locally or remotely through the inbuilt web server and offering Modbus over TCPIP for connecting measured data to other plant wide systems. The DN26 G3 features a built-in intuitive colour LCD display and menu drive facility providing various display modes including FFT analysis of the dynamic channels and an alarm historian with real time logging capability.
Further details from:
Russell King, Sensonics Ltd,
Berkhamsted, Hertfordshire, UK.
Tel: +44 (0) 1442 876833
Fax: +44 (0) 1442 876477
Email:
sales@sensonics.co.uk
www.sensonics.co.uk